Directions:
South-west corner of Asgarnia. Players can either walk south from
Falador
or west from
Port Sarim
. If players wield the "Clan Vexillum they can simply teleport to the Clan Camp and walk to the south.
Quests Available in the Area:
Nearest Bank:
A bank is located with the town itself.
Map: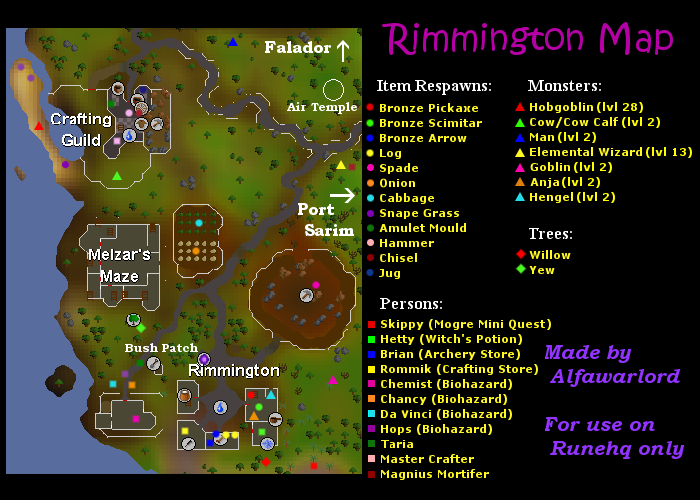 Instructions:
Inhabitants:
Customs Sergeant - located in the Customs Office at the south end of the town.
Hetty - found in her house to the south-east of the town square.
Malignius Mortifer - can be found wandering in the fields north of Port Sarim.
Melzar the Mad - located in the basement of his manor to the north-west of the town-site.
Skippy - can be found drunkenly stumbling around behind Hetty's house.
Lucille - can be found in a house on the west side. She is the starting point of Song from the Depths
Monsters:
Elemental wizards - Level 13
Hobgoblins - Level 28
Giant rats - Level 3
Shops:
Rimmington General Store - Found in the north-west corner of the town square and has two floors. The shopkeeper and his shop assistant are on the ground floor. Quite often, however, players who are training their Woodcutting skill will sell willow logs to the store so as to avoid having to bank or drop them. The store's first floor contains nothing apart from decoration.

Rommik's Crafty Supplies - Found in the south of the general store and sells a variety of supplies useful when training the Crafting skill. The store stocks the same items as the Crafting store in Al Kharid; although it is far less populated due to its location and because the Crafting Guild spawns many of these items for free.

Brian's Archery Supplies - Is found east of Rommik's. Brian sells supplies used whilst training the Ranged skill. His store is very similar to Varrock's archery store; although it is much less busy due to its location and the lack of many of Varrock's features.
This Map was written by Alfawarlord. Thanks to Fireball0236, dinguskhan0, Swimbaby, and Alk12 for corrections.
This Map was entered into the database on Tue, Sep 26, 2006, at 08:55:06 PM by DRAVAN, and it was last updated on Sun, Nov 29, 2015, at 04:48:30 PM by DRAVAN.
If you see this guide on any other site, please report it to us so we can take legal action against anyone found stealing our content. This guide is copyrighted by RuneHQ, and its use on other sites is expressly forbidden. Do not ask if you can use our guides or images, the answer is and always will be NO!
Print this page with images - Back to the Map Index Page - Back to Top