Directions:
Level 36 to 43 of the Wilderness.
Nearest Bank:
William
can typically be found wandering South East of the Island. Note that while free players can see him (and buy capes from him) they will not be able to access their bank with him.
Map: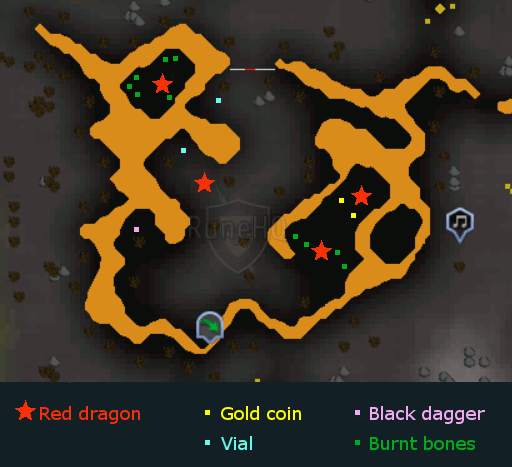 Instructions:
Table of Contents

Near the Island, these people can be found:
Around the island, you can also find:
This is a dangerous location, be aware of Player Killers! It is highly suggested to not bring any equipment that you do not want to risk losing. You will not be able to teleport from this location!
This is not a popular training area, as it is in deep wilderness. However, there are safe spots which can be used. It is possible to attack the red dragons with ranged or magic from the other side of the lava and telegrab the drops, which is also an easy way to avoid PKers. An Anti-dragon shield or (Super) Antifire potion is a must if you wish to visit this deadly part of the wilderness.
Team capes 1, 11, 21, 31, and 41 can be purchased by speaking with William.
This Map was written by ChathMurrpau. Thanks to Previous writers: Beepem and DRAVAN, as well as I_Play_RS, SURFERKID0, jakesterwars, LogGamer, Poofy, Tennerel, masterhyperg, dale_alen, and Fireball0236 for corrections.
This Map was entered into the database on Sun, Jul 16, 2006, at 11:07:56 AM by Magic, and it was last updated on Tue, Dec 05, 2017, at 05:39:12 AM by ChathMurrpau.
If you see this guide on any other site, please report it to us so we can take legal action against anyone found stealing our content. This guide is copyrighted by RuneHQ, and its use on other sites is expressly forbidden. Do not ask if you can use our guides or images, the answer is and always will be NO!
Print this page with images - Back to the Map Index Page - Back to Top