Directions:
Players can walk south from the Shantay Pass. Go south/south-east from the pass.

Many of Ali Morrisane's Magic carpets fly to the city. Carpets near Shantay Pass, Nardah, Sophanem and Menaphos all go directly to the city. (Carpets near Uzer and the Bedabin Camp can also be used, by using them to go to the Shantay Pass carpet.) Each use of a carpet costs 200 coins normally (or less, if the player has done the Rogue Trader miniquest or has an activated Ring of charos).

If players have their house portal in Pollnivneach, they can use the House Teleport spell to reach their house and then exit through the portal. If the Love Story quest has been completed, players can use a Pollnivneach tablet (made from a chipped House Teleport tablet) to teleport to the Pollnivneach house portal, even if their house is located elsewhere.

Slayer rings teleport to the house of slayer master Sumona. (They do not teleport directly to the Desert Slayer Dungeon as some players believe, but the well's entrance is a block south from the teleport destination.)

The Mask of Mourning and Helm of Keening can teleport to the Pollnivneach well. Both items can do this up to 2 times daily. A Facemask or other protection from the dungeon's smoke is required for the player to avoid taking damage.
Nearest Bank:
No Bank, so players cannot store or retrieve their items. One solution to this problem is to use the magic carpets to fly between Pollnivneach and Nardah, using the bank there. Players short of money, may find the carpet fees prohibitive. If so, killing Goats in the desert outside Nardah and selling their Desert goat horn drops on the Grand Exchange can be useful. The quickest banking solution involves using Rings of duelling to teleport to the bank chest at Castle Wars (or a suitable home teleport) and then using Teleport to House to return to Pollnivneach. However, this is available only to members who have a Construction level of 20 or more, so that they can locate their house at the Pollnivneach portal. Alternatively players with the ability to create Rings of slaying can teleport directly to Sumona.
Map: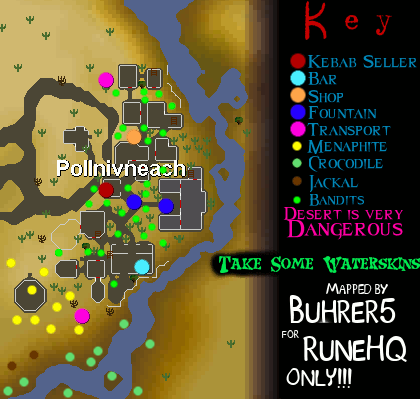 Instructions:
Monsters:
Menaphites
Bandits
Desert Snakes
Crocodiles
Area Places of Intrest:
North-western Region:
A Summoning obelisk. This is a small obelisk, where only Summoning points can be recharged.

A portal to Player-owned houses.
Northern Region:
The city's northern Magic carpet.

Houses, Bandits and the bandits' headquarters.

Ali the Dyer, who can make red, yellow and blue dye for players, in exchange for coins and dye ingredients.

The starting point for the Smoking Kills quest. Sumona is here until the quest is completed.

A deposit chest becomes available in the northeast after completing Deadliest Catch.
Western Hill:
Ali the Has's house
Central Area:
Pollnivneach General Store, which stocks empty pots, jugs, waterskins, desert shirts, desert boots, buckets, fake beards, Karidian headpieces, cheese, limes, tomatoes, jug of water, bowl of water, and bucket of water.

A house containing slayer master Sumona, once the Smoking Kills quest is complete.

Ali the Mayors house.

Ali the Kebab Seller

Ali the Camel Trader.
Southern Area:
The Asp & Snake Bar

Menaphite headquarters

Magic Carpet
This Map was written by Buhrer5. Thanks to DRAVAN for corrections.
This Map was entered into the database on Wed, Oct 26, 2005, at 10:21:41 PM by DRAVAN, and it was last updated on Sat, Jan 30, 2016, at 03:40:20 PM by DRAVAN.
If anything is incorrect or missing, or if you have any new information to submit to this database, please submit it to us on our Content Submissions Forums.
If you see this guide on any other site, please report it to us so we can take legal action against anyone found stealing our content. This guide is copyrighted by RuneHQ, and its use on other sites is expressly forbidden. Do not ask if you can use our guides or images, the answer is and always will be NO!
Print this page with images - Back to the Map Index Page - Back to Top