Skill Levels Required to Enter Area:
None.
Quests Required to Enter Area:
None.
Items Needed to Enter Area:
None.
Directions:
Quests Available in the Area:
None.
Nearest Bank:
Nearest Landmark:
None.
Nearest Other:
None.
Map: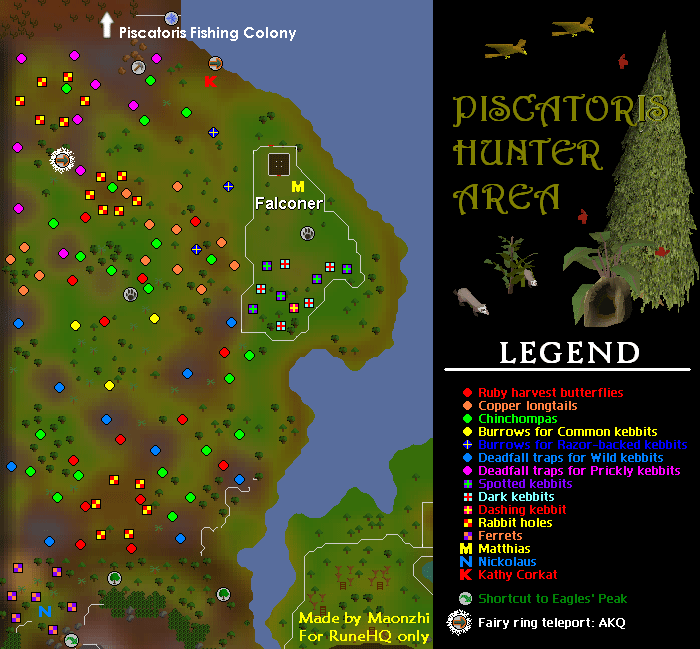 Hunter Creatures
Name
Level
Needed
Type
Common Kebbit
3
Tracking
Razor-backed kebbit
49
Tracking
Copper Longtail
9
Bird Snaring
Ruby Harvest
15
Butterfly Netting
Wild Kebbit
23
Deadfall Trapping
Prickly Kebbit
37
Deadfall Trapping
Ferret
27
Box Trapping
Chinchompa
53
Box Trapping
White rabbit
27
Rabbit Snaring
Spotted Kebbit
43
Falconry
Dark Kebbit
57
Falconry
Dashing Kebbit
69
Falconry
This Map was written by Maonzhi and Jarkur. Thanks to Alk12, Andro_Girl, Fireball0236, and Sheep01 for corrections.
This Map was entered into the database on Sun, Dec 03, 2006, at 02:42:52 AM by Alk12, and it was last updated on Tue, Jan 12, 2016, at 04:07:29 PM by Jarkur.
If anything is incorrect or missing, or if you have any new information to submit to this database, please submit it to us on our Content Submissions Forums.
If you see this guide on any other site, please report it to us so we can take legal action against anyone found stealing our content. This guide is copyrighted by RuneHQ, and its use on other sites is expressly forbidden. Do not ask if you can use our guides or images, the answer is and always will be NO!
Print this page with images - Back to the Map Index Page - Back to Top