Quests Required to Enter Area:
Directions:
The entrance to the enclave is in the western part of the ogre marketplace in the centre of Gu'Tanoth. During the quest, the player must use a cave nightshade on the ogre guard to gain entry. After the quest, this is no longer required.
Map: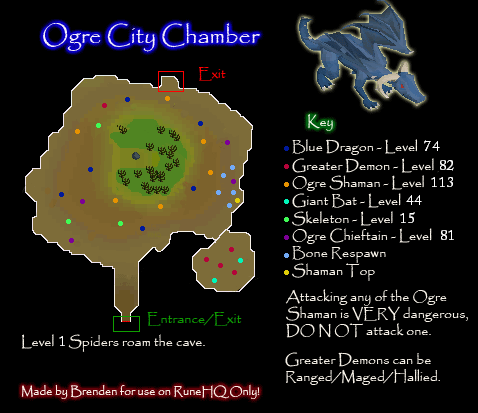 Instructions:
Warning:
You cant exit through the cave that you entered. The exit is located on the opposite side and it places you at the Skavid cave entrance which is outside Gu'Tanoth. You may not re-enter the dungeon from the Skavid cave.
If a player has not completed the Watchtower quest then it is advised that you do not talk or attack the Ogre Shamans. They will become annoyed with you and attack. The Shamans are invincible and they can hit up to 3000 which cannot be blocked by Prayer.
Monsters:
Blue Dragons - Level 74
Greater Demons - Level 82
Ogre Shaman - Level 113
Ogre Chieftain - Level 81
Skeleton - Level 15
Spider - Level 1
This Map was written by Gnat88. Thanks to Brenden, Fireball0236, Jakesterwars, and JoeC for corrections.
This Map was entered into the database on Thu, Jul 08, 2004, at 01:40:06 AM by Stormer, and it was last updated on Mon, May 02, 2016, at 03:10:29 PM by Dark.
If anything is incorrect or missing, or if you have any new information to submit to this database, please submit it to us on our Content Submissions Forums.
If you see this guide on any other site, please report it to us so we can take legal action against anyone found stealing our content. This guide is copyrighted by RuneHQ, and its use on other sites is expressly forbidden. Do not ask if you can use our guides or images, the answer is and always will be NO!
Print this page with images - Back to the Map Index Page - Back to Top