Quests Required to Enter Area:
Items Needed to Enter Area:
Maze Key
Directions:
Nearest Landmark:
Map: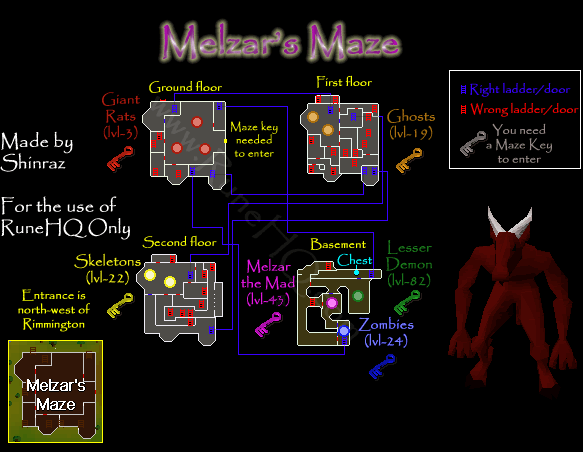 Instructions:
Ground Floor:
Players enter the building on the ground floor. Level 4 zombie rats and Level 2 Rats can be found here. The north east room houses the exit.
First Floor:
Level 12 Ghosts who were victims of Elvarg can be found here. If players are wearing the "Amulet of Ghostspeak" You have the ability to speak to them. Kill the hooded ghost that is not wearing a cloak. This ghost will drop the "Orange Key". The Orange Key is needed to open the second door from the ladder on the eastern wall.
Second Floor:
On this floor players will encounter level 18 skeletons. The skeleton with the "Yellow Key" is the one with the rounded shield. Once players have the key you must open the south western yellow door and then continue down the hallway to the ladder. This will lead you to the basement.
Basement:
Two level 14 zombie will be there once you enter. You will also find a blue and a brown door. Passing through the brown door is the same as an exit, and will not allow you to re-enter to fight the zombies. Going through the brown door means that you will have to restart the maze.
Players must kill the zombies to receive the "Blue Key". Once you have the key, use it to open the blue door and continue through.
Melzar the Mad is behind the blue door. Melzar is a level 39 wizard that uses melee and magic attacks. The brown door in this room leads to the exit. The Magenta door leads to the last opponent in the maze. Once Melzar is killed, he will drop the magenta key.
Behind magenta door you can fight a Lesser demon. Using Silverlight would be the best weapon of choice for low-level players. However, ranged weapons are even more effective. Once the demon has been killed, it will drop the last key, which can be used to open the green door, so you can collect the piece of crandor island map.
This Map was written by Shinraz. Thanks to halk 5, The_Peleton, and Xswe12345 for corrections.
This Map was entered into the database on Fri, Dec 16, 2005, at 07:52:29 PM by DRAVAN, and it was last updated on Sun, Apr 17, 2016, at 08:49:18 AM by Jarkur.
If anything is incorrect or missing, or if you have any new information to submit to this database, please submit it to us on our Content Submissions Forums.
If you see this guide on any other site, please report it to us so we can take legal action against anyone found stealing our content. This guide is copyrighted by RuneHQ, and its use on other sites is expressly forbidden. Do not ask if you can use our guides or images, the answer is and always will be NO!
Print this page with images - Back to the Map Index Page - Back to Top