Skill Levels Required to Enter Area:
o fight in the arena requires level 60 Magic (boosts do not work), and the ability to kill increasingly difficult forms of Kolodion using only magic. It is also strongly recommended you have 37+ prayer, so you can use Protect from magic. Its bank is a hotspot for player killers to restock their supplies.
Items Needed to Enter Area:
Best magic equipment you can afford to lose. Though the risk is fairly minimal, there is no emergency teleport available, and this is a dangerous fight.

Several doses of prayer potions, though it's easily feasible to do it without any potions, with a high (60+) prayer level- even while flashing mystic might. You should be using Protect from Magic the entire time, and while battling Kolodion you are safe from PKers, so the risk is minimal. Some food is a necessity, however, as prayer no longer provides immunity.

Runes for the highest spell you can cast, at least 50, preferably 80-100 casts. If you have Iban's staff or can use a polypore staff, those are highly recommended. With enough prayer potions, even the lowest spells can work, but they will take a much longer time and use more pots.
Nearest Bank:
The Mage Arena cave's bank (known as the Mage Bank) is run by Gundai. The best choice is after you kill each form, go to the level in front of the entrance and exit the arena, then go back in and get more food from the bank in the Mage Arena and stock up on food and the form you left on will be fought again even if you leave.
Map: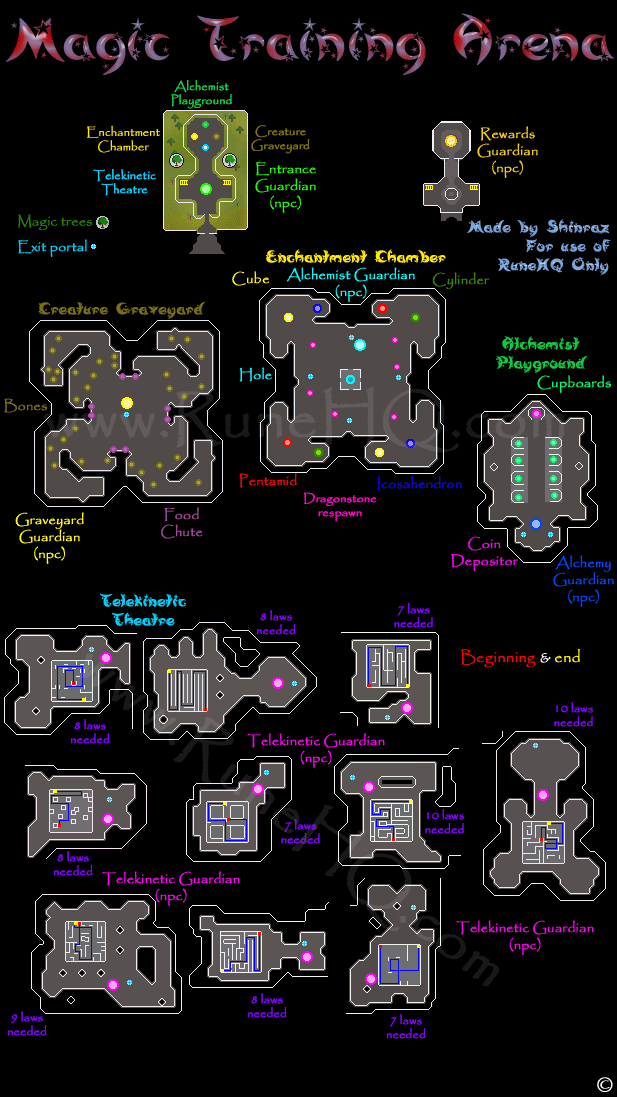 This Map was written by Shinraz, hawk_element and towelhead. Thanks to Fireball0236, adamb53, Aakanaar, magicblade28, Inaithnir, slayer369 and watsermetjou for corrections.
This Map was entered into the database on Tue, Jan 24, 2006, at 12:33:23 PM by Fireball0236, and it was last updated on Tue, Dec 29, 2015, at 11:26:16 PM by DRAVAN.
If anything is incorrect or missing, or if you have any new information to submit to this database, please submit it to us on our Content Submissions Forums.
If you see this guide on any other site, please report it to us so we can take legal action against anyone found stealing our content. This guide is copyrighted by RuneHQ, and its use on other sites is expressly forbidden. Do not ask if you can use our guides or images, the answer is and always will be NO!
Print this page with images - Back to the Map Index Page - Back to Top