Skill Levels Required to Enter Area:
No requirements.
Quests Required to Enter Area:
None
Items Needed to Enter Area:
Rope
(first time entering only), a Light source (should be a lantern as candles can explode in the dungeon), and
Spiny helmet
.
Directions:
The main entrance to this dungeon is located in
Lumbridge swamp
, between the water altar and the mining site. It can also be accessed via the tunnels under
Lumbridge
Castle if you have cleared the blockage in the northeastern part of the dungeon.
Another less common way to reach the caves would be using the teleport option of the Wicked Hood to travel to the nearby Water Runecrafting Altar , lying close to the entrance.
Yet another way to enter the caves is via the Games Necklace teleport option to the Tears of Guthix Distraction and Diversion . Follow the path from the Tears of Guthix northwest to the Cave Entrance, and you will enter the Lumbridge Swamp Caves in the Giant Frog cavern. A light source and a spiny helmet /slayer helmet /full slayer helmet may be needed if traveling to other locations in the cave.
Quests Available in the Area:
Nearest Bank:
Lumbridge Castle.
Nearest Landmark:
None.
Map: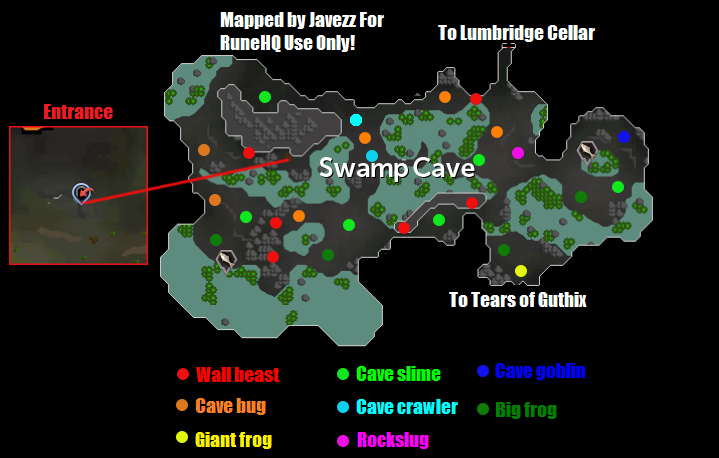 Instructions:
The Lumbridge swamp Caves is home to a variety of slayer monsters and is also known as the "slayer cave", although there are also some friendly faces within.
Players can net fish for Frog Spawns in this area with level 33 Fishing. With level 28 Fishing players can also fish for Slimy Eels and with a level of 38 Fishing to catch Cave Eels.
Swamp Gas:
There are some areas of the cave that contain swamp gas. Swamp gas is highly flammable. In the instance that the player is in an area with swamp gas with an open light source, a message will appear in the text box, telling players that their light source flares brightly. It then ignites the gas and causes and explosion shortly afterward, extinguishing the light source in the process. This does around 100 to 200 damage to your life points, depending on the player's Constitution level. However, if players are quick enough, an explosion may be avoided by simply leaving the room with the swamp gas.
Monsters:
Big Frog - level 36, a smaller and weaker version of a giant frog.
Cave Bug - level 7 Slayer required.
Cave Crawler - Level 10 Slayer required. These can poison players, so antipoisons or super antipoisons are recommended.
Cave Goblin - These are goblins which live underground.
Cave Slime - Level 17 Slayer required. These are poisonous walking blobs of slime, which are Slayer assignments. They also drop level 1 clue scrolls.
Giant Frog - Level 99. The toughest monster in these caves, although they are not aggressive.
Rockslug - Level 20 Slayer required, bags of salt needed to kill.
Wall Beast - Level 35 Slayer required, spiny helm needed for protection from attacks (there are holes in the wall where the beasts can attack you).
This Map was written by Javezz. Thanks to DRAVAN. for corrections.
This Map was entered into the database on Tue, Mar 22, 2005, at 04:35:09 PM by Xena_Dragon, and it was last updated on Sat, Mar 14, 2015, at 03:50:45 PM by DRAVAN.
If anything is incorrect or missing, or if you have any new information to submit to this database, please submit it to us on our Content Submissions Forums.
If you see this guide on any other site, please report it to us so we can take legal action against anyone found stealing our content. This guide is copyrighted by RuneHQ, and its use on other sites is expressly forbidden. Do not ask if you can use our guides or images, the answer is and always will be NO!
Print this page with images - Back to the Map Index Page - Back to Top