Skill Levels Required to Enter Area:
Directions:
Entrances:
The main entrance to the cave can be found south of Lumbridge in between the water altar and the mining site. For the first time only, you will need a rope and a light source to enter.A spiny helmet/slayer helmet/full slayer helmet is very useful when using this entrance, as there is a wall beast in between the entrance and the rest of the caves.

In the basement of the castle in another entrance into the caves. However players must have at least started The Lost Tribe
. Break through the loose wall in the south eastern corner, then go south. Mine into the wall.

Teleport option: Using the teleport option of the Wicked Hood to travel to the nearby Water Runecrafting Altar , lying close to the entrance.

Games Necklace: The Games Necklace can be used to teleport to the Tears of Guthix Distraction and Diversion. Follow the path from the Tears of Guthix northwest to the Cave Entrance, and you will enter the Lumbridge Swamp Caves in the Giant Frog cavern.
Quests Available in the Area:
Map: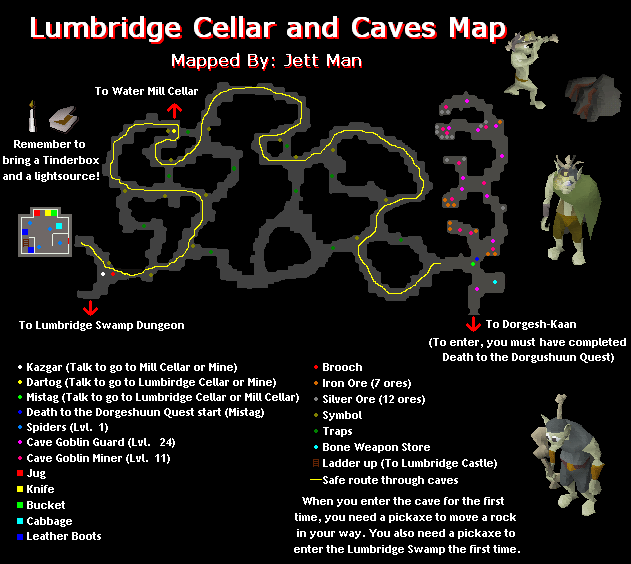 Instructions:
Swamp Gas:
Swamp gas can be found in some of the areas in the cave. Swamp gas is considered very flammable. If a player is in a area with swamp gas and possesses a light source a message will appear in the text box, telling players that their light source flares brightly. It then ignites the gas and causes and explosion shortly afterward, extinguishing the light source in the process.
Monsters:
Big Frog - level 36.
Cave Bug - level 7 Slayer required.
Cave Crawler - Level 10 Slayer required. These can poison players, so antipoisons or super antipoisons are recommended.
Cave Goblin - These are goblins which live underground.
Cave Slime - Level 17 Slayer required. These are poisonous walking blobs of slime, which are Slayer assignments.
Giant Frog - Level 99.
Rockslug - Level 20 Slayer required, bags of salt needed to kill.
Wall Beast - Level 35 Slayer required, spiny helm needed for protection from attacks.
This Map was written by Slow Cheetah and DRAVAN.. Thanks to DRAVAN, Fireball0236, Jett_man, Im4eversmart, and Olllivander for corrections.
This Map was entered into the database on Sun, Jun 05, 2005, at 05:47:35 PM by Unknown, and it was last updated on Sun, Sep 27, 2015, at 02:19:40 AM by DRAVAN.
If you see this guide on any other site, please report it to us so we can take legal action against anyone found stealing our content. This guide is copyrighted by RuneHQ, and its use on other sites is expressly forbidden. Do not ask if you can use our guides or images, the answer is and always will be NO!
Print this page with images - Back to the Map Index Page - Back to Top