Skill Levels Required to Enter Area:
None.
Quests Required to Enter Area:
Items Needed to Enter Area:
Rope, Armour, and food.
Directions:
The island of Karamja is southwest of the town of
Rimmington
. Players enter by way to the top of the volcano.
Nearest Other:
Crandor Island.
Map: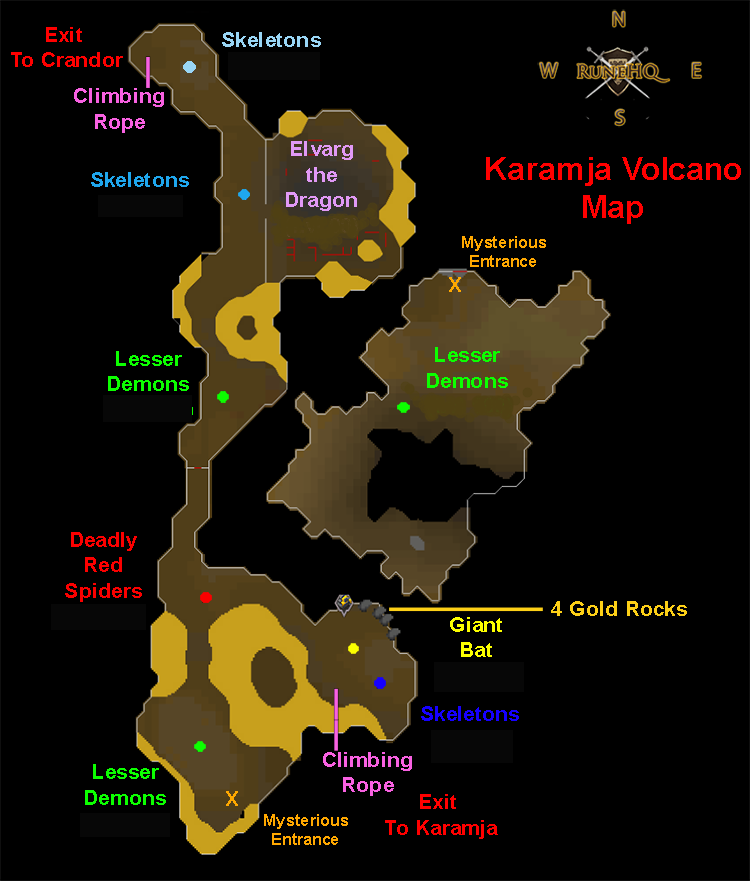 Instructions:
Features:
The dragon "Elvarg" lives under Crandor. Players must defeat her in order to complete the Dragon Slayer quest. Elvarg can only be fought once, after the quest is completed this dragon will not be available again. The items in here lair are not able to be telegrabbed from outside of Elvargs area.
Four Gold rocks can be found here. They are guarded by Skeletons.
A "Resource Dungeon" can be found inside the hallways that contains the "Lesser Demons". This requires a level 25 in Dungeoneering. This grants a one time bonus of 2100 Dungeoneering experience.
Red Spider Eggs spawn in this dungeon. They are found along with Deadly Red Spiders. Fires runes can be found in a spawn area among the southern Lesser Demons.
This Map was written by MrStormy. Thanks to DRAVAN. for corrections.
This Map was entered into the database on Sat, Jun 07, 2014, at 07:53:13 AM by MrStormy, and it was last updated on Thu, Mar 19, 2015, at 01:16:39 AM by DRAVAN.
If you see this guide on any other site, please report it to us so we can take legal action against anyone found stealing our content. This guide is copyrighted by RuneHQ, and its use on other sites is expressly forbidden. Do not ask if you can use our guides or images, the answer is and always will be NO!
Print this page with images - Back to the Map Index Page - Back to Top