Skill Levels Required to Enter Area:
None.
Quests Required to Enter Area:
None.
Items Needed to Enter Area:
None.
Directions:
Quests Available in the Area:
None.
Nearest Bank:
Nearest Landmark:
Ice Mountain.
Nearest Other:
Map: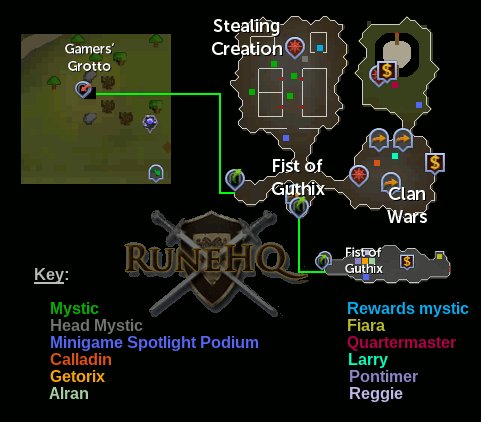 Instructions:
Features:
this area is home to three popular minigames: Stealing Creation, Clan Wars, and Fist of Guthix. This dungeon possesses its own teleport by using the a href="/database.php?type=item&id=1597">Games Necklace.
Stealing Creation:
The Mystics Camp where this game is played can be found just north of this dungeon inside the largest room there.
Fist of Guthix:
The portal for this game is located south of the dungeon. Enter the portal and you will be teleported directly to the cave, and exiting the cave will result in returning here. This will take you to the wilderness. However you cannot be killed here and the only way to return is back through the portal. Clan Wars:
This game is located to the east. The portals, NPC's and "Larry" can all be found here. There is a one-click Bank Chest in the corner of this room.
This Map was written by DarkBlitz. Thanks to DRAVAN for corrections.
This Map was entered into the database on Fri, Mar 04, 2011, at 01:14:38 PM by DarkBlitz, and it was last updated on Fri, Mar 20, 2015, at 10:52:19 PM by DRAVAN.
If you see this guide on any other site, please report it to us so we can take legal action against anyone found stealing our content. This guide is copyrighted by RuneHQ, and its use on other sites is expressly forbidden. Do not ask if you can use our guides or images, the answer is and always will be NO!
Print this page with images - Back to the Map Index Page - Back to Top