Directions:
Free-to-Play:
Aubury - Found in Varrock south of the east bank. This is the most useful way due to its distance to the bank inside the free-to-play worlds.
Sedridor - Located on the 2nd floor of the Wizards' Tower. A level 50+ Runecrafting is highly recommended, because of the long walk to banks.
Carwen Essencebinder - Located in Burthorpe, south of Xuan's store. This is the closest location to a lodestone.
Members:
Wizard Cromperty - Located in Ardougne (East), north-east of the marketplace. This location has a fairly-medium distance from a bank

Wizard Distentor - Located in the Wizards' Guild in Yanille. This location is preferred by many players due to its short distance from a bank, although level 66 or higher Magic is required to enter the guild.

Brimstail - Located in a cave in the south western corner of the Tree Gnome Stronghold.

Lunar Isle - This mine is a completely separate location from the magical ice mountain fields and is found inside the Lunar Isle mine. This location is not recommended due to its distance from the bank and because of the Suqahs on the way to the mine. Part of the Lunar Diplomacy quest must also be completed to use the bank on Lunar Isle. After completing Lunar Diplomacy player can use Home Teleport to the Lunar Isle lodestone or switch to Lunar Spells and use Moonclan Teleport, if they have 69 Magic, for price of 3 spots (2 Astral, 1 Law and 2 Earth runes)
Map: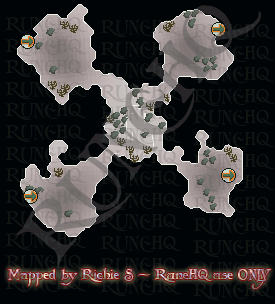 Instructions:
Mining Ores:
The mine houses 4 large essence spots. There is also a teleport located around each of the rocks that will teleport the player out of the mine.
This area contains 2 type of essences: Rune Essence and Pure Essence.
4 Rune/Pure Essence.
Notable Features:
You cannot use Alchemy in the mine.

Entering the mine from a member's' entrance, switching to a Free world and trying to leave gives you a warning about not being able to go here on a Free server.
This Map was written by pj. Thanks to DRAVAN, Richie_S, and Darkblitz for corrections.
This Map was entered into the database on Fri, Apr 30, 2004, at 01:10:01 AM by MrStormy, and it was last updated on Sat, May 21, 2016, at 04:11:08 PM by Dark.
If anything is incorrect or missing, or if you have any new information to submit to this database, please submit it to us on our Content Submissions Forums.
If you see this guide on any other site, please report it to us so we can take legal action against anyone found stealing our content. This guide is copyrighted by RuneHQ, and its use on other sites is expressly forbidden. Do not ask if you can use our guides or images, the answer is and always will be NO!
Print this page with images - Back to the Map Index Page - Back to Top