Skill Levels Required to Enter Area:
None.
Quests Required to Enter Area:
None.
Items Needed to Enter Area:
Weapons and armor are required to fight the monsters inside the dungeon, but can't be taken onto the island of
Entrana
. However, see the
Lost City
guide for more information on how to obtain weapons and armor while there.
Directions:
Attempt to climb down the ladder on the northwest side of
Entrana
and the
Cave monk
there will offer a warning about the dangers of the dungeon before allowing you to climb down. After entering this dungeon it is not possible to climb back up to the surface.
WARNING: Entering the cave drains the player's prayer to almost zero. There is NO way to prevent it.
Quests Available in the Area:
Nearest Bank:
Map: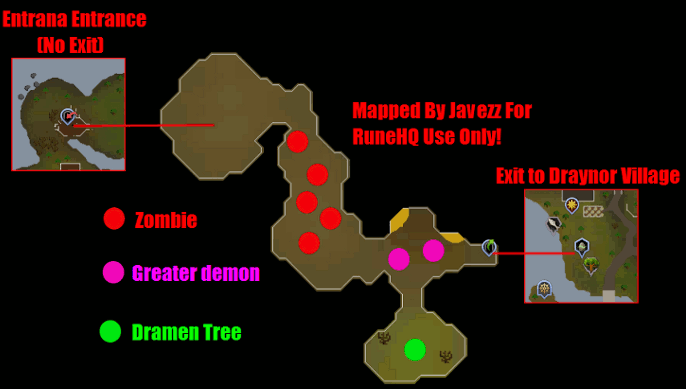 Instructions:
Dramen Tree:
The Dramen Tree is the main use of this dungeon. While doing the Lost City quest and while freeing "Sir Amik Varze" in Recipe for Disaster, the player is required to cut branches from this tree.
When a player attempts to cut this tree, a level 90 "Dramen Tree Spirit" will appear and attempt to attack. A player however does not need to defeat the spirit again once it has been slayed the first time.
Weapons and Armour Recommendations:
This area is a non-wilderness area that is wonderful for killing "Greater Demons". However it should be taken into account that players are unable to bring armour and weapons to this island. With this in mind player will need to create their own weapons once on the island.
If a player wishing to use Ranged, they can create dragonhide armour and fletch their own bows, crossbows and ammunition. Magic users can create their own magic robes such as spider silk and batwing robes, as well as their own wands and books/orbs.
Using melee as a form of battling is not recommended here. The absence of a anvil makes this pretty much impossible to use this type of attack method. It is possible to bring a godsword by dismantling it and then re-attaching the hilt once you are on the island. It is also useful to note that most jewellery can be brought to the island, such as Fremennik rings or an amulet of glory.
Runes can be brought to this dungeon, as they do not count as equipment. This makes magic a viable combat style, as players can use their most powerful spells without restriction, provided they also bring materials to craft a wand. Runes can also be used for High Level Alchemy. Bones to Peaches would allow a player to stay here longer using the bones dropped by the zombies in this dungeon, and the demons will also sometimes drop Tuna.
This Map was written by Javezz. Thanks to DRAVAN. for corrections.
This Map was entered into the database on Tue, May 03, 2005, at 09:27:48 PM by dravan, and it was last updated on Sun, Mar 22, 2015, at 03:13:48 PM by DRAVAN.
If you see this guide on any other site, please report it to us so we can take legal action against anyone found stealing our content. This guide is copyrighted by RuneHQ, and its use on other sites is expressly forbidden. Do not ask if you can use our guides or images, the answer is and always will be NO!
Print this page with images - Back to the Map Index Page - Back to Top