Skill Levels Required to Enter Area:
Quests Required to Enter Area:
Items Needed to Enter Area:
Directions:
The Enchanted Valley can only be accessed via the Fairy Ring code B K Q. When the player appears in the valley, he/she will be standing behind a waterfall. The waterfall has a steep incline which can be walked down into the valley.
Quests Available in the Area:
None.
Nearest Bank:
Map: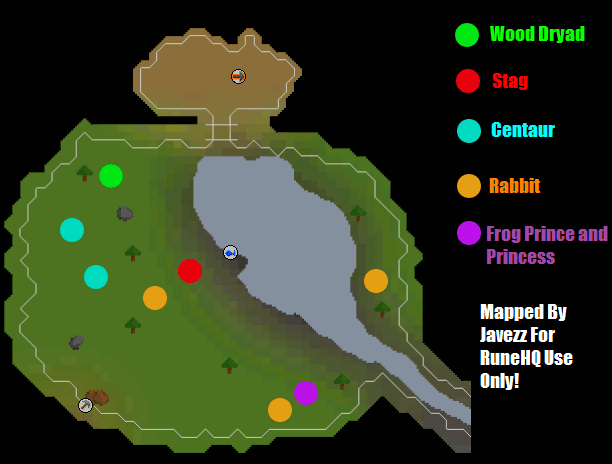 Instructions:
Note: Attempting to cut a tree in the valley will summon a Tree Spirit lvl 18, attempting to mine the rocks will summon a Rock Golem, and attempting to fish in the river will summon a River Troll. These were once Random Events, but were discontinued in 2009 and relocated to the valley along with the Frog Price and Princess. The rocks contain an unknown substance, as prospecting them or mining them will yield no message in the text box and a rock golem attack. Fighting rock golems or river trolls yields no experience. The rock golem attacks with very high accuracy, almost never missing. It alternates between melee and Ranged attacks whenever protection prayers activate, making it a worthy opponent.
The music track "On the Wing" can be unlocked in this area.
A unique red and yellow butterfly orbits around the woods, with the examine info: "These look much better in the wild."
You cannot lure the fishing spot without having a fly fishing rod in your inventory, i.e. your toolbelt doesn't work.
The many creatures located here resemble those from The Chronicles of Narnia, The Lion, The Witch, And the Wardrobe and The Last Battle.
This Map was written by Javezz. Thanks to DRAVAn. for corrections.
This Map was entered into the database on Wed, Jul 26, 2006, at 04:24:40 AM by samwilliamh, and it was last updated on Fri, Mar 06, 2015, at 01:01:27 AM by DRAVAN.
If you see this guide on any other site, please report it to us so we can take legal action against anyone found stealing our content. This guide is copyrighted by RuneHQ, and its use on other sites is expressly forbidden. Do not ask if you can use our guides or images, the answer is and always will be NO!
Print this page with images - Back to the Map Index Page - Back to Top