Skill Levels Required to Enter Area:
There are no required level needed to enter into the
Edgeville
dungeon.
Quests Required to Enter Area:
There are no required quests needed to enter.
Items Needed to Enter Area:
No items are needed to enter the dungeon, however it does bring you into the wilderness.
Quests Available in the Area:
Nearest Bank:
Nearest Landmark:
Map: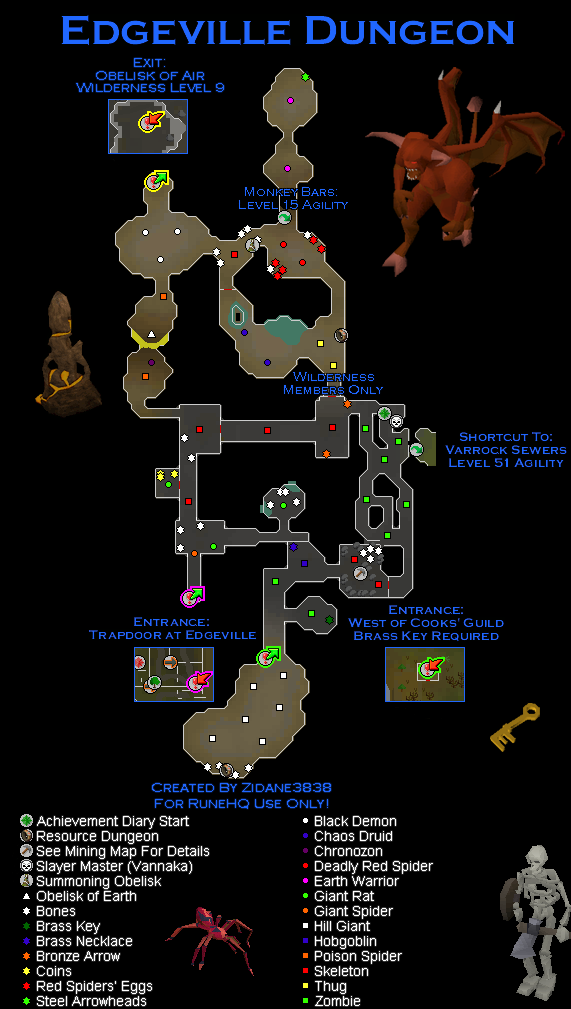 | | |
| --- | --- |
| Monsters | Level |
| Black demon | 98 |
| Chaos druid | 32 |
| Chronozon | 84 |
| Deadly red spider | 95 |
| Earth warrior | 78 |
| Giant rat | 7, 9 |
| Giant spider | 2 |
| Hill Giant | 44 |
| Hobgoblin | 28, 32 |
| Poison spider | 63 |
| Skeleton | 58, 32, 16, 15 |
| Thug | 11 |
| Zombie | 22, 29 |
Instructions:
Entrance:
There are two entrances into the dungeon. The most used is in Edgeville. Located in the ruined house just south of the bank.
Another entrance is located west of the Cooks' Guild in Varrock on the east side of the River Lum. To enter, the player must bring a "brass key" which can easily be found in the dungeon. This meathod is useful to gain Prayer, since it leads directly to hill giants.
Features:
There are a large number of Chaos druids in the wilderness area.
Red spider eggs respawn in this dungeon, making it easily the easiest way to collect them.
Black demons are located further insite, yet closer to a bank then any other found within the game.
Chronozon who plays a strong role in the Family Crest quest can be found and killed here.
The Earth Obelisk is found near Chronozon, as also the Air Obelisk just pasT THE Black Demons.
This Map was written by bombmagnet2, Thedarkblitz, Skeletonmat, Djw24, and Zidane3838. Thanks to LogGamer, Ponteaus, A Random, Fireball0236, Dragon2404, Phantom, rifles4, Jarkur, and Olllivander for corrections.
This Map was entered into the database on Fri, Jan 16, 2004, at 07:54:55 AM by MrStormy, and it was last updated on Wed, Jun 10, 2015, at 11:27:58 PM by Jarkur.
If anything is incorrect or missing, or if you have any new information to submit to this database, please submit it to us on our Content Submissions Forums.
If you see this guide on any other site, please report it to us so we can take legal action against anyone found stealing our content. This guide is copyrighted by RuneHQ, and its use on other sites is expressly forbidden. Do not ask if you can use our guides or images, the answer is and always will be NO!
Print this page with images - Back to the Map Index Page - Back to Top