Skill Levels Required to Enter Area:
None.
Quests Required to Enter Area:
Items Needed to Enter Area:
None.
Directions:
Located under White Wolf Mountain.
Nearest Bank:
Taverley.
Nearest Landmark:
White Wolf Mountain.
Map: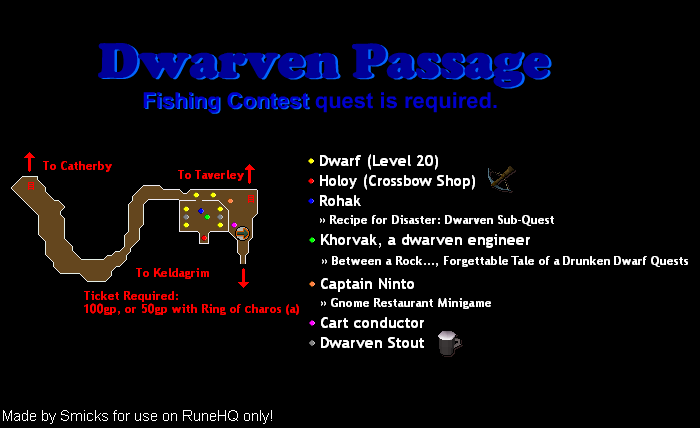 Instructions:
After doing the Fishing Contest Quest, members can use the Dwarven Tunnel under White Wolf Mountain to quickly travel between Catherby and Taverley. There is a room containing some Dwarven stout spawns, where Khorvak, a dwarven engineer (Between a Rock... Quest), can also be found. This room is a good place to practice ranging on the many level 20 Dwarves that hang around. The southeast corridor contains the Cart conductor; after completing the Giant Dwarf Quest, pay him 100 gp for a ticket to ride the mine carts to Keldagrim.
This Map was written by Watsermetjou. Thanks to Smicks, DarkBlitz, Jakesterwars Fireball0236, DRAVAN, and Cedros_Man for corrections.
This Map was entered into the database on Sun, May 09, 2004, at 08:55:49 AM by Freakybat, and it was last updated on Thu, Apr 09, 2015, at 10:30:29 PM by DRAVAN.
If you see this guide on any other site, please report it to us so we can take legal action against anyone found stealing our content. This guide is copyrighted by RuneHQ, and its use on other sites is expressly forbidden. Do not ask if you can use our guides or images, the answer is and always will be NO!
Print this page with images - Back to the Map Index Page - Back to Top