Skill Levels Required to Enter Area:
None.
Quests Required to Enter Area:
Items Needed to Enter Area:
Armor and food.
Directions:
Quests Available in the Area:
None.
Map: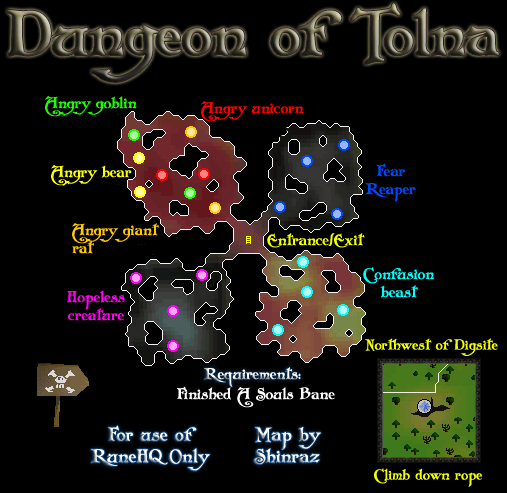 Instructions:
There are four main areas (aka "Rooms") of this dungeon, each one of them containing their own unique set of monsters.
Anger Room:
The Anger Room contains monsters are are best suited for players with the levels of 40's-50's. This room contains Angry bears, Angry giant rats, Angry goblins, and Angry unicorns. All of these monsters have 1250 Life points and are weak to Fire spells.
Confusion Room:
The confusion Room contains "Confusion Beasts". These creatures are level 62 and have 1550 Life points. They can poison, yet are weak to Fire Spells as well.
Hopeless Room:
The Hopeless Room is home to "Hopeless Creatures". These monsters are level 68 and have 1700 Life points. These are currently the strongest monsters located within this dungeon. The are weak against Fire Spells.
Fear Room:
This room contains Fear reapers and is only recommended for those with combat levels in at least the high 40s. Fear reapers are level 58 and have 1450 Life points. They are weak to Fire Spells.
This Map was written by Shinraz. Thanks to Fireball0236, carduel, DRAVAN, and balmung681 for corrections.
This Map was entered into the database on Mon, May 01, 2006, at 09:48:22 PM by DRAVAN, and it was last updated on Tue, May 10, 2016, at 03:18:38 PM by Dark.
If anything is incorrect or missing, or if you have any new information to submit to this database, please submit it to us on our Content Submissions Forums.
If you see this guide on any other site, please report it to us so we can take legal action against anyone found stealing our content. This guide is copyrighted by RuneHQ, and its use on other sites is expressly forbidden. Do not ask if you can use our guides or images, the answer is and always will be NO!
Print this page with images - Back to the Map Index Page - Back to Top