Skill Levels Required to Enter Area:
Directions:
To reach the course, travel to Dorgesh-Kaan and go to the very south of the city and ascend to the highest level, not far from the anvil and furnace, then ascend the southern stairs to reach the south dungeon's upper level. The fastest way to get to the course is to break a Dorgesh-Kaan teleport sphere and run to the course in this way. An alternative, slightly slower way to get to the course is to use the fairy ring code A•J•Q placing you underneath the course. Go to the northernmost part of the cave and you'll see ladders to your right. A third option to get there is to travel to Keldagrim from the trapdoor shortcut at the Grand Exchange, then through the entrance to the Train Station located on the same wall as the cart tunnel you entered from. Board the train and you arrive at the southern end of Dorgesh-Kaan, and from there go out the door and run south, then up the flight of stairs leading to the Agility course.
Map: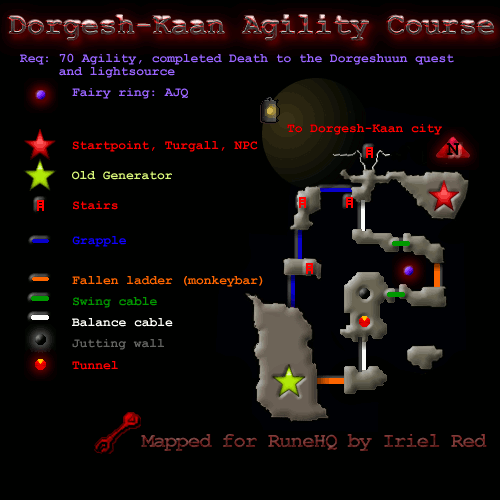 Instructions:
Turgall is found in a well-lit generator room at the north-east corner of the cave and down some stairs. To start training, a player will need to offer to help him retrieve an item from the other generator room to the south-west. Complete the conversation in order to receive the spanner used to extract items from the other generator. He will always give a choice of two items, one delicate and one heavy. The heavy items can only be returned via the agility route, and the delicate items can only be returned via the grapple route. Using the wrong route will result in the item being destroyed.
This Map was written by Iriel_Red.
This Map was entered into the database on Sat, Mar 01, 2008, at 03:46:19 PM by Jakesterwars, and it was last updated on Sun, Jan 04, 2015, at 07:21:10 PM by DRAVAN.
If you see this guide on any other site, please report it to us so we can take legal action against anyone found stealing our content. This guide is copyrighted by RuneHQ, and its use on other sites is expressly forbidden. Do not ask if you can use our guides or images, the answer is and always will be NO!
Print this page with images - Back to the Map Index Page - Back to Top