Directions:
There are three different ways to get there: by taking a carpet ride from the Shantay Pass to the Bedabin Camp and then running directly south, by using a Bandit camp teleport, or by activating the Lodestone located at the camp, and then home teleporting there. The easiest way to get there is to home teleport (unlocked by completing Desert Treasure); the fastest way is to use a teleport scroll.
Map: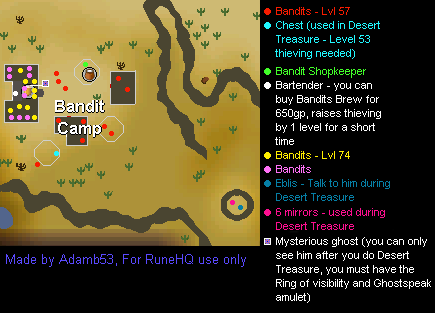 Instructions:
Features:
The Bandit Camp is home to a bar, The Big Heist Lodge. This is the only known source of Bandit's brew, an ale that will temporarily boost a player's Thieving level by 1. However, it costs 650 coins, and hence it might be more expeditious to use Sq'irk juice instead.

The town is also home to a simple general store which is used to "bank" for Bandit killers (sell noted food and buy back food unnoted). The shopkeeper there is simply called Bandit shopkeeper.

There are two main areas used in town which feature in the Desert Treasure quest: mirrors, used to discern the whereabouts of the Diamonds of Azzanadra, and a chest in a large tent in the south area of town, containing Rasolo's gilded cross.
This Map was written by adamb53. Thanks to Fireball0236, DRAVAN, halk 5, Deltantor, neo9038, and watsermetjou for corrections.
This Map was entered into the database on Tue, Feb 07, 2006, at 10:12:59 AM by Fireball0236, and it was last updated on Tue, Dec 29, 2015, at 11:28:36 PM by DRAVAN.
If anything is incorrect or missing, or if you have any new information to submit to this database, please submit it to us on our Content Submissions Forums.
If you see this guide on any other site, please report it to us so we can take legal action against anyone found stealing our content. This guide is copyrighted by RuneHQ, and its use on other sites is expressly forbidden. Do not ask if you can use our guides or images, the answer is and always will be NO!
Print this page with images - Back to the Map Index Page - Back to Top