Directions:
Located on a elevated area in the southern part of Troll Country.
Quests Available in the Area:
Map: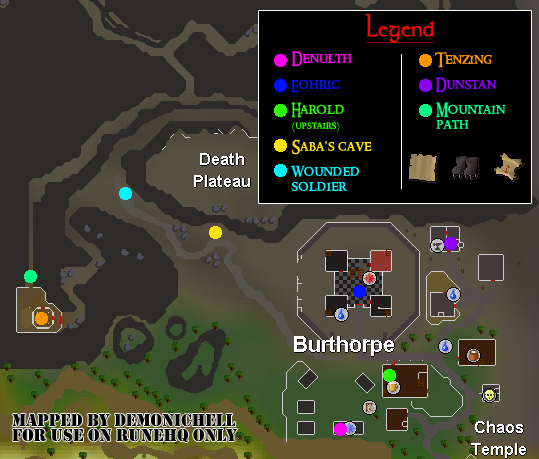 Instructions:
In the Death Plateau quest a safe passage into the troll lands is found within Sabbot's cave, which is basically an agility dungeon.

There is a very large number of Trolls on the Plateau, these include; Thrower Trolls, Mountain Trolls, and several higher ranking trolls. At the centre of the Plateau lies a gigantic Cooking pot where many unlucky adventurers and soldiers have met their ends. The Cooking pot is maintained by Ash and Dung, two troll cooks who often argue about the best methods of cooking humans for lunch.
This Map was written by Demonichell . Thanks to Fireball0236, and Ponteaus for corrections.
This Map was entered into the database on Sun, Dec 11, 2005, at 11:32:42 AM by Switcher, and it was last updated on Wed, Dec 02, 2015, at 11:27:44 PM by DRAVAN.
If you see this guide on any other site, please report it to us so we can take legal action against anyone found stealing our content. This guide is copyrighted by RuneHQ, and its use on other sites is expressly forbidden. Do not ask if you can use our guides or images, the answer is and always will be NO!
Print this page with images - Back to the Map Index Page - Back to Top