Skill Levels Required to Enter Area:
None.
Quests Required to Enter Area:
Items Needed to Enter Area:
None.
Directions:
None.
Quests Available in the Area:
None.
Nearest Bank:
None.
Nearest Landmark:
None.
Nearest Other:
None.
Map: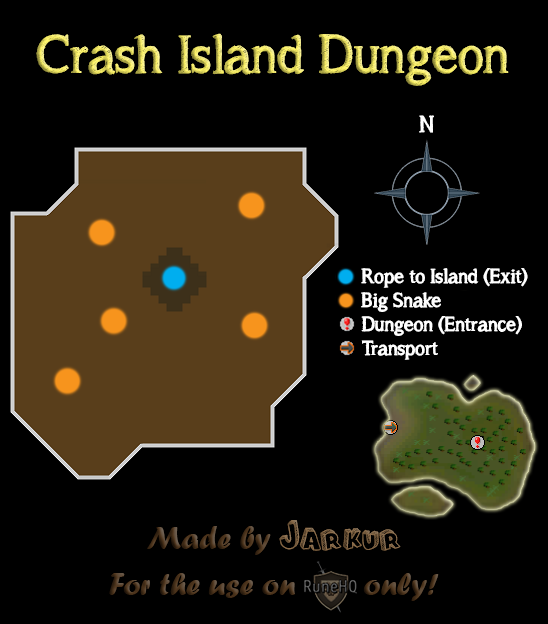 Instructions:
The dungeon entrance is protected by Snakes (Level 9). When entering the dungeon for the first time, you will be struck with 150 damage. If currently working on
Recipe for Disaster
quest, make sure that you are prepared for the fall before you enter. After the first visit all other visits will not project any damage on you because a rope will be provided. To leave the dungeon simply click the rope located in the center, or you can leave by performing a teleporting spell.
The Big Snakes (Level 64) inside this dungeon can be killed to acquire the Giant Snake Spine that is needed for the
Fur 'n' Seek
wishlist.
Besides these few features the dungeon is otherwise no use.
This Map was written by The Peleton and Jarkur . Thanks to Alk12, Watsermetjou, Fireball0236 and Devildog for corrections.
This Map was entered into the database on Wed, Jun 07, 2006, at 12:35:42 AM by Rohan, and it was last updated on Fri, Jan 16, 2015, at 05:49:38 AM by Jarkur.
If you see this guide on any other site, please report it to us so we can take legal action against anyone found stealing our content. This guide is copyrighted by RuneHQ, and its use on other sites is expressly forbidden. Do not ask if you can use our guides or images, the answer is and always will be NO!
Print this page with images - Back to the Map Index Page - Back to Top