Quests Required to Enter Area:
Directions:
Underneath the south-western part of East Ardougne
Quests Available in the Area:
Nearest Bank:
Nearest Landmark:
Map: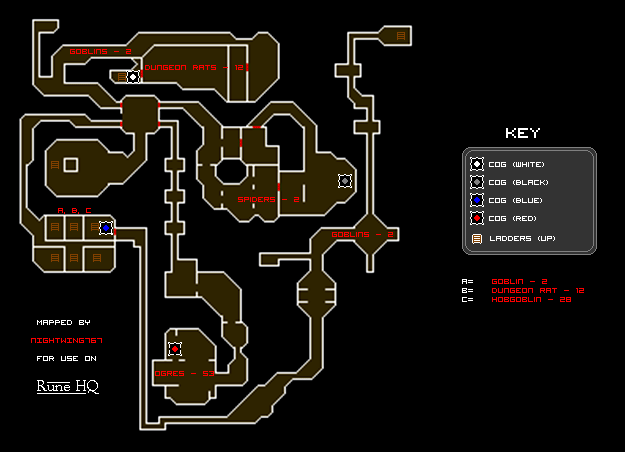 Instructions:
Even though this dungeon is quite large, not many players use it except doing the Clock Tower and Monk's Friend quests.
Inhabitants:
Rat - Level 2
Giant Spider - Level 2
Dungeon Rats - Level 16 and 26
Goblins - Levels 4, 8, and 16
Hobgoblins - Level 40
Orges - Level 67
Thieves - Level 30
Head Thief - Level 36
Music:
"Alone"
This Map was written by Phsyco_Path. Thanks to DRAVAN. for corrections.
This Map was entered into the database on Sun, Sep 11, 2005, at 01:38:51 AM by Fireball0236, and it was last updated on Wed, Sep 23, 2015, at 11:33:55 PM by DRAVAN.
If you see this guide on any other site, please report it to us so we can take legal action against anyone found stealing our content. This guide is copyrighted by RuneHQ, and its use on other sites is expressly forbidden. Do not ask if you can use our guides or images, the answer is and always will be NO!
Print this page with images - Back to the Map Index Page - Back to Top