Quests Required to Enter Area:
33 quest points are required to enter the guild.
Quests Available in the Area:
Nearest Landmark:
Map: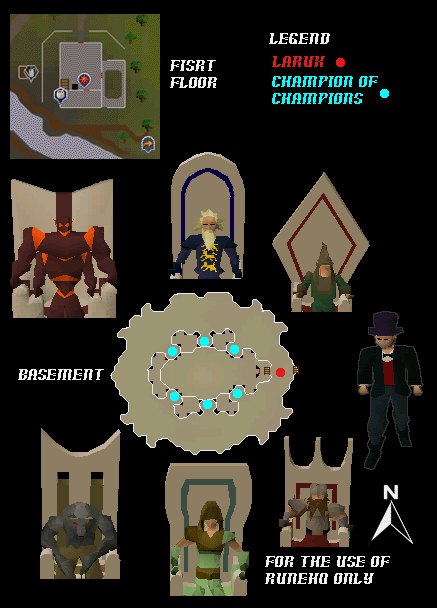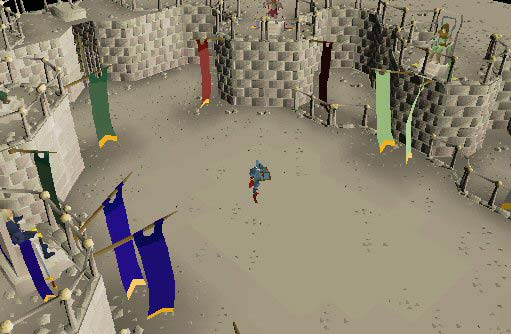 Instructions:
Ground Floor
Once you enter through the front doors you will enter the foyer that houses the Guildmaster. The Guildmaster graciously welcomes players. Players can speak with him in order to start the Dragon Slayer quest.

This room also contains a staircase that leads to the first floor, a Distraction and Diversion, and a trapdoor that leads to the Champions Challenge. This floor also includes another yet smaller room with a range for cooking.

The east side of this area contains chickens, which makes it an ideal place for low level cooking leveled players to work on this skill. The Prayer skill is also well used here with the chicken bones. Fishing and Fletching can be of use here in regards with the chicken feathers.

Xenia, one of the founders of this guild along with the other heros are located sitting near the table. When a player enters the ground floor Ozan plays a delightful tune.
First Floor
The first floor is a large empty room inhabited with two NPC's and various room decorations. A chest is located here that contains: gloves, leather boots, and a small amount of coins.
Scavvo's Rune Store
Players are able to buy rune armour and rune weapons from Scavvo, along with green dragonhide armour and coifs.
Valaines Shop of Champions
Valaine runs this general store, in which players cn sell her any item. She is the only person that non-members can purchase adamant platebody from.
Basement
The basement part of the guild is only accessible to members. In the basement is the Champions Challenge Distraction and Diversion. Strong monsters representing their individual race sit around the arena where a player can challenge them. A player must have a Champions scroll to challenge them.
This Map was written by sccerluk9 and DRAVAN.. Thanks to DRAVAN for corrections.
This Map was entered into the database on Tue, Jan 17, 2006, at 08:25:15 PM by DRAVAN, and it was last updated on Sat, Dec 06, 2014, at 10:52:25 PM by DRAVAN.
If anything is incorrect or missing, or if you have any new information to submit to this database, please submit it to us on our Content Submissions Forums.
If you see this guide on any other site, please report it to us so we can take legal action against anyone found stealing our content. This guide is copyrighted by RuneHQ, and its use on other sites is expressly forbidden. Do not ask if you can use our guides or images, the answer is and always will be NO!
Print this page with images - Back to the Map Index Page - Back to Top