Skill Levels Required to Enter Area:
No requirements.
Quests Required to Enter Area:
None
Items Needed to Enter Area:
875 coins.
Directions:
Southwest of
Brimhaven
>; Northwest of the Karamja lodestone.
Quests Available in the Area:
None.
Nearest Bank:
Nearest Landmark:
Brimhaven Player-owned house portal.
Map: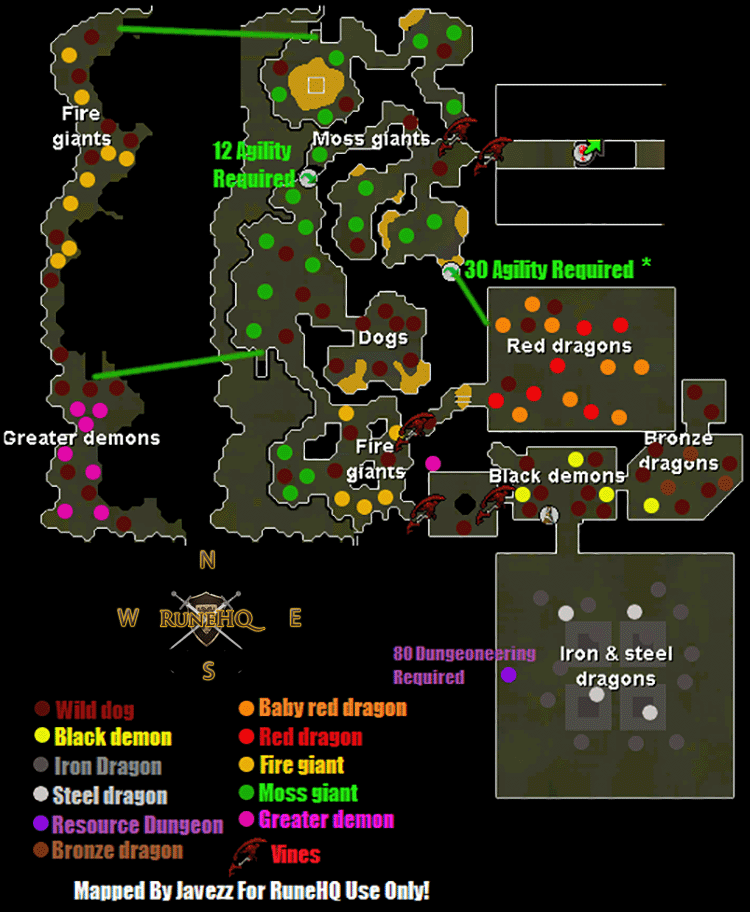 * Requires Karamja Gloves 4 to jump across this agility shortcut.
Instructions:
There are several Agility obstacles in this dungeon. There will be either stepping stones or a balance log when crossing over lava. The obstacle will be a pipe to squeeze through when it goes from an area to a different area. The Dragon hatchet icons indicate that you will need a woodcutting skill level and a hatchet to chop through the vines to get through that passage, the hatchet on your toolbelt will work fine.
This dungeon will be filled with players collecting dragon hides from the various dragons. The higher level dragons give better chances of getting rare drops like dragon platelegs and the Draconic visage.
To melee the dragons, it is recommended to use Proselyte or Initiate armor with a one-handed weapon and an anti-dragon breath shield. Also recommended is protect from melee prayer and prayer potions. You will still get hit damage, so it is best to use anti-fire potions and you can battle them with little to no food. Also see our Dragon hunting special report.
Agility Obstacles and Shortcuts:
Level 12, stepping stones
Level 30, log balance.
Level 33, pipe contortion.

Dungeon Monsters

Baby red dragon Level 68
Black demon Level 140
Bronze dragon Level 124
Fire giant Level Level 122
Greater demon Level 118
Iron dragon Level 140
Moss giant Level 74
Red dragon Level 120
Steel Dragon Level 144
Wild dog Level 50

This Map was written by Javezz.
This Map was entered into the database on Tue, Jan 18, 2005, at 04:14:57 PM by pokemama, and it was last updated on Tue, Jun 24, 2014, at 08:23:05 PM by DRAVAN.
If you see this guide on any other site, please report it to us so we can take legal action against anyone found stealing our content. This guide is copyrighted by RuneHQ, and its use on other sites is expressly forbidden. Do not ask if you can use our guides or images, the answer is and always will be NO!
Print this page with images - Back to the Map Index Page - Back to Top