Skill Levels Required to Enter Area:
None.
Quests Required to Enter Area:
Items Needed to Enter Area:
None.
Directions:
The Barrows is a fairly large area located in south-eastern part of Morytania, just east of the city of
Mort'ton
.
(For those who do not know where
Mort'ton
is, it is a city south of
Canifis
, past the Mort Myre swamp.)
Quests Available in the Area:
None.
Nearest Bank:
Nearest Landmark:
None.
Nearest Other:
None.
Map: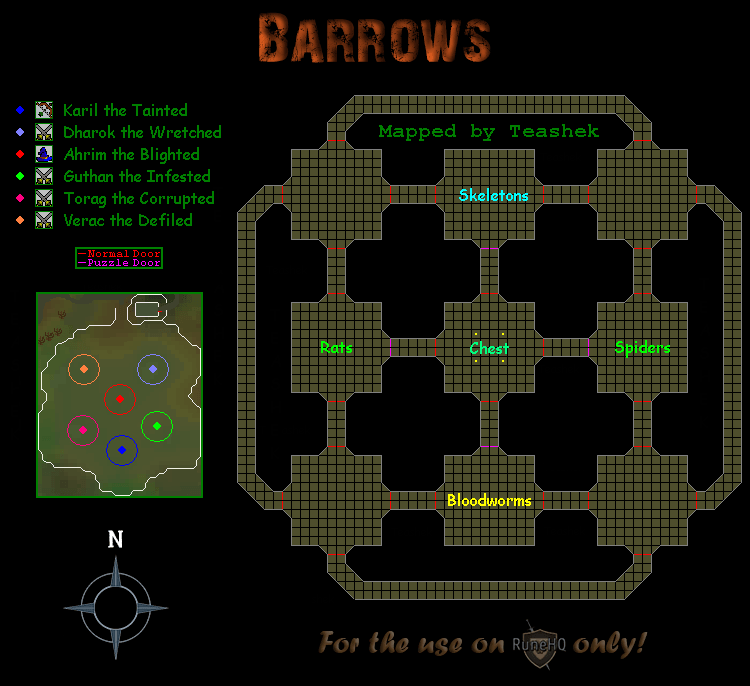 Instructions:
The exit will be placed randomly. Different doors will be available to different players randomly. Failing to solve a puzzle correctly on puzzle doors will result in all doors re-randomizing. Claiming the chest will result in everything re-randomizing upon re-entry and the roof will begin to collapse causing insignificant damage until you leave.
Notes:
Any creature can spawn when you open a door including a 'pinky', except the giant spiders and giant rats.
Some rooms always contain a certain creature, they are marked on the map above.
One of he mounds will not not contain a 'pinky', but instead take you to the caves, where he can presumably be found.
Unless you're actually outside, you will lose prayer points very quickly.
Opening doors causes monsters to spawn.
This Map was written by Teashek, Xtotre, and Jarkur. Thanks to Im4eversmart for corrections.
This Map was entered into the database on Fri, May 13, 2005, at 03:35:48 PM by Im4eversmart, and it was last updated on Tue, Feb 17, 2015, at 07:00:55 PM by Jarkur.
If you see this guide on any other site, please report it to us so we can take legal action against anyone found stealing our content. This guide is copyrighted by RuneHQ, and its use on other sites is expressly forbidden. Do not ask if you can use our guides or images, the answer is and always will be NO!
Print this page with images - Back to the Map Index Page - Back to Top