Quests Required to Enter Area:
Directions:
Nearest Bank:
Nearest Landmark:
Map: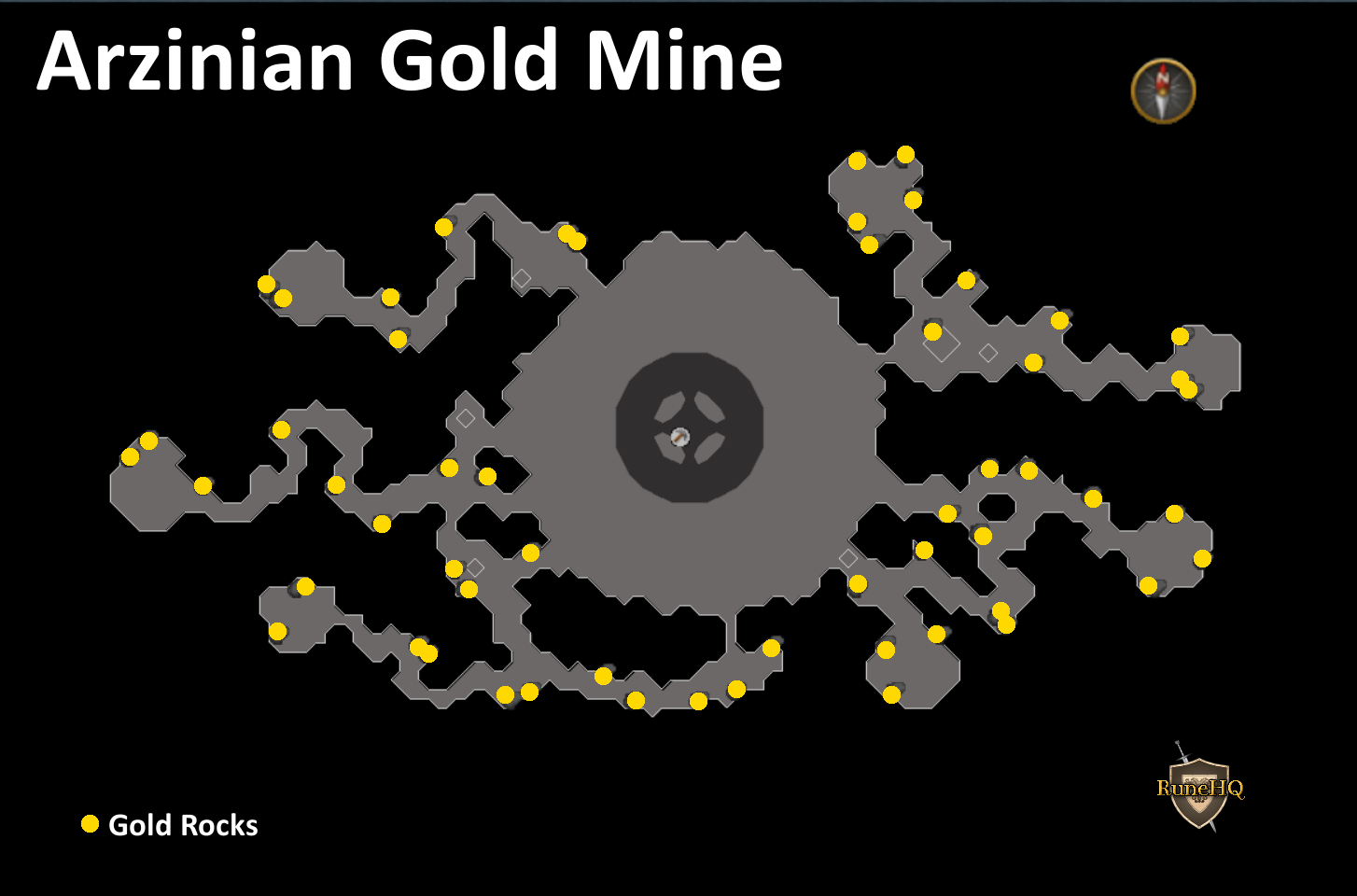 Instructions:
Ores Found:
53 Gold rocks
Items Needed: Golden helmet, Pickaxe, and possibly 4 coins for ferry trips.

Items Recommended: Ring of charos (a), and Amulet of glory.

Instructions:
Put on your golden helmet and talk to Dondakan. He will fire you into the mine.
Mine 27-28 Gold ore
Unequip your helmet or disconnect and log back in to leave (Disconnecting allows you to keep your helmet on and mine 28 Gold ore, but may be slower).
Head east across the footbridge to the Dwarven Boatman standing by a boat
Hand over your gold ore, which he will bank for you.
Repeat 1-5 until you have all the gold you want.
Note: Near the Dwarven Boatman, there is a small hut that you may enter (with the completion of The Giant Dwarf quest) to gain access to the bank. Although it takes longer to get to the bank by travelling this way, you keep your gold instead of giving it to the Dwarven Boatman.
Dwarven Boatman Price:
The Dwarven Boatman takes one ore off the top and one more for every 5 gold ore you give him (rounded down). The maximum number of ore you can mine per trip is 28, although it is recommended that you only mine 27. If you mine 28 ores, you must leave the area by logging out and back in, which can be time consuming. If you leave one empty slot, you can simply unequip your helmet when you want to leave.
The following table summarizes his price:
| | |
| --- | --- |
| Number of Gold You Bring | Cost |
| 1 to 4 Gold Ores | 1 Gold Ore |
| 5 to 9 Gold Ores | 2 Gold Ore |
| 10 to 14 Gold Ores | 3 Gold Ore |
| 15 to 19 Gold Ores | 4 Gold Ore |
| 20 to 24 Gold Ores | 5 Gold Ore |
| 25 to 28 Gold Ores | 6 Gold Ore |
Why Ring Of Charos(a)?
This Ring provides two key benefits:
You do not need to pay the Dwarven Ferryman for ferries.
The Dwarven Boatman will give you a discount on his services.
| | |
| --- | --- |
| Number of Gold You Bring | Cost |
| 1 to 9 Gold Ores | 1 Gold Ores |
| 10 to 19 Gold Ores | 2 Gold Ores |
| 20 to 28 Gold Ores | 3 Gold Ores |
This Map was written by Ksb Single. Thanks to Fireball0236, Shinraz, Aakanaar, Ksb Single, Ponteaus, and DRAVAN, Nuke-Marine for corrections.
This Map was entered into the database on Fri, Oct 28, 2005, at 03:25:30 AM by Fireball0236, and it was last updated on Wed, Jan 30, 2019, at 02:57:15 AM by KsbSingle.
If anything is incorrect or missing, or if you have any new information to submit to this database, please submit it to us on our Content Submissions Forums.
If you see this guide on any other site, please report it to us so we can take legal action against anyone found stealing our content. This guide is copyrighted by RuneHQ, and its use on other sites is expressly forbidden. Do not ask if you can use our guides or images, the answer is and always will be NO!
Print this page with images - Back to the Map Index Page - Back to Top