Skill Levels Required:
Quests Required:
Items Needed:
None
Directions:
North East of
Lumbridge
Castle. Accessed via the trap door North of the North-most building on the West side of the River Lum.
Persons:
Quests Available in the Guild:
Guild Map: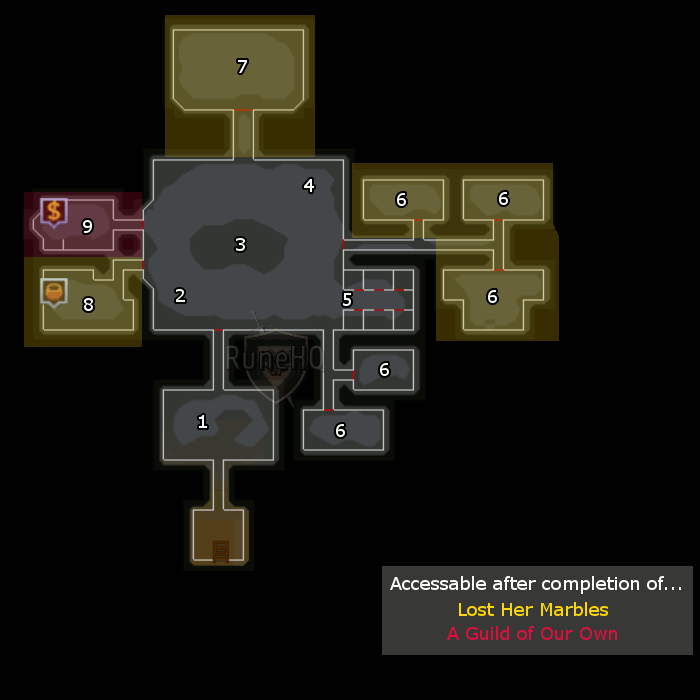 Tour:
In order to access all the areas of the guild, you will need to complete 3 capers. Each one will unlock a new section of the guild. Below you will find guides on how to complete each one of these capers.
Quest Requirements:
Buyers and Cellars
Skill Requirements:
24 Thieving
Rewards:
1,000 Thieving Experience
Quest Requirements:
Buyers and Cellars
Caper 1: From Tiny Acorns
Skill Requirements:
41 Thieving
Rewards:
9,800 Total Thieving Experience, 255 Maple logs, 126 Teak logs, 45 Law runes, 55 Nature runes, 37 Raw lobsters, 19 Raw swordfish, 36 Gold ore, 46 Coal, and better loot from pickpocketing NPC's up to level 40.
Speak to Darren Lightfinger again. He will ask you to be on the lookout for valuable Flame fragments. These can be found while picking pockets around Gielinor.




Exit the guild and start finding people to pickpocket. Each type of person will only have a maximum of 6 shards. Thus you will only need to pickpocket 6 of the different types of people. The best way to get all shards is to collect them from the people around the Draynor and Lumbridge area, then make your way to Ardounge to get the last few.

Once you have 32 Flame fragments, head back to Darren Lightfinger to claim your reward. For each group of fragments you trade in, you will get 1,200 thieving experience and a share of the guild's loot. You will need to collect your share of the loot from Chief Thief Robin before you are able to trade in any more fragments. Once you have given him all he has asked for, your screen will black out and you will appear at the trap door - Mission complete.




Quest Requirements:
The Feud
Buyers and Cellars
Caper 1: From Tiny Acorns
Caper 2: Lost Her Marbles
Skill Requirements:
62 Thieving
40 Agility
46 Herblore
Required Items:
Any Blackjack (except a Rubber blackjack), Lockpick, Clean irit, Vial of water, and Chopped onion.
Rewards:
30,000 Thieving Experience, 4,000 Herblore Experience, and Ability to make Vials of stench.
This Guild Guide was written by ChathMurrpau. Thanks to Previous guide writers: Laiorai and Motion Man, as well as 4399tina, perfect8soul, jimbob3930, and Wonder-Char for corrections.
This Guild Guide was entered into the database on Thu, May 13, 2010, at 03:17:29 AM by Motion_Man, and it was last updated on Tue, Nov 27, 2018, at 04:13:13 AM by Chath.
If you see this guide on any other site, please report it to us so we can take legal action against anyone found stealing our content. This guide is copyrighted by RuneHQ, and its use on other sites is expressly forbidden. Do not ask if you can use our guides or images, the answer is and always will be NO!
Print this page with images - Back to the Guild Guide Index Page - Back to Top