Is this Distractions and Diversions Safe to play?:
Yes
Contents:
Skills Required:
Skills Recommended:
Level 90+ in all Combat skills.
Quests Required:
Items Needed:
See tables below.
Items Recommended:
Food, Stat-boosting potions, Prayer potions, and a Combat or Beast of Burden familiar.
Starting Point:
To Start:
Getting Started:
To Start Rush of Blood either talk to Morvran in the Iorwerth sector of Prifddinas and ask about using his dungeon, or enter the cage next to him. He'll then ask you if you want to do a reward run or trial run and the difficulty you want to attempt ranging from Bronze to Platinum. You can attempt the reward run once per week (this resets every Wednesday at 00:00GMT) and you will receive a Reward book at the end.

Trial runs can be done whenever you want and you will still be able to open the Reward chest at the end and unlock titles (see the Rewards Section below for more information).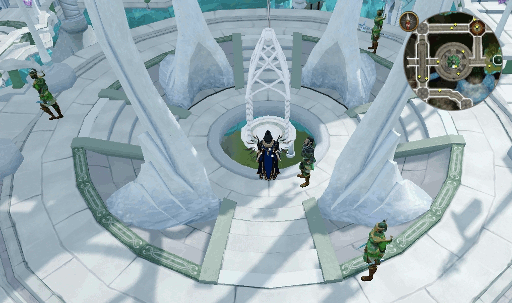 Once you've selected either reward or trial run, you'll enter the cage and be lowered down into Morvran's dungeon where you'll find a Bank chest and enclosed arena. The Bank chest here can be used at any point during the waves, but note that once you start the timer will not stop if you leave the arena to bank.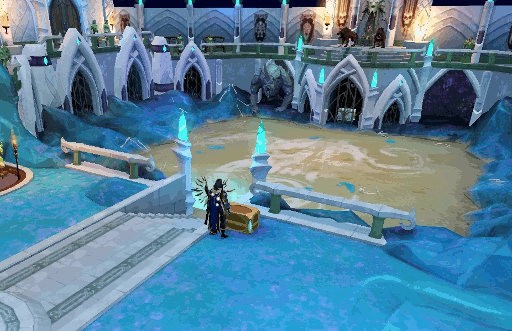 The aim of Rush of Blood is survive and defeat as many waves of monsters as you can within 10 minutes. As mentioned above, there are four difficulty levels ranging from the easiest, Bronze to the hardest, Platinum. To start playing, simply pass through the barrier and wait a moment for the first wave to spawn.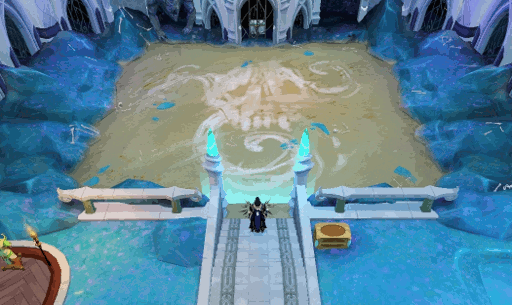 It is highly recommended to prioritise your damage output throughout the waves as it is more difficult to kill all the monsters from wave 1-20 within the time limit than it is to simply survive. This means using Power armor, Stat-boosting potions and Prayer/Curses, Combat familiars, auras and weapon switching for weaknesses to kill everything as fast as possible. Buying the ability for a Ferocious ring to work in the dungeon from Morvran is also highly beneficial.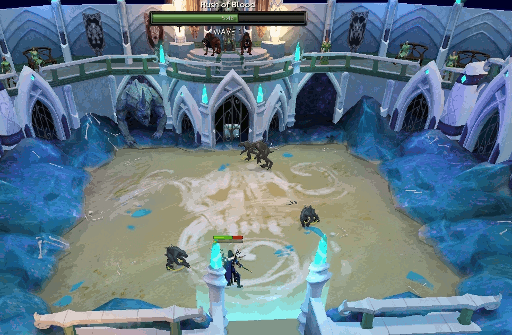 Below you'll find a list of each possible wave and the monsters that spawn. Note that it is completely random and you may have to fight to same wave several times in a row.
Bronze
Slayer Level Required
Possible Waves
Required/Recommended Items
85

All three attack styles
Blisterwood or Ivandis weaponry
Dragonfire protection
Silver
Slayer Level Required
Possible Waves
Required/Recommended Items
90

All three attack styles
Blisterwood or Ivandis weaponry
Dragonfire protection
Gold
Slayer Level Required
Possible Waves
Required/Recommended Items
95
Platinum
Slayer Level Required
Possible Waves
Required/Recommended Items
99
Rewards:
Once the 10 minutes are up or you die, the gate at the back of the arena will open and allow you to search the reward chest which contains various items that would normally be dropped by the monsters you've killed. You can choose to bank all of the items, discard them or take and place them in your inventory.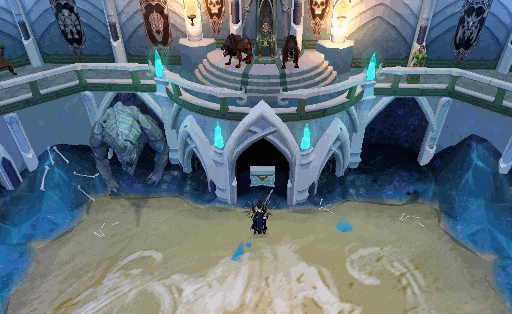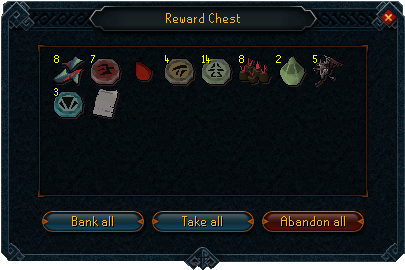 If you've completed a Reward run then you will be also be given a Reward book which provides experience based on your Combat level, selected difficulty, waves completed and whether you survived or died. However, there is a chance (waves completed/20) that the reward chest will contain a Most wanted card which increases the chance of obtaining unique drops from the corresponding monster.
If you successfully completed wave 20 within the 10 minutes, then you will also be awarded a title depending on the difficulty. Note that you will be also be awarded titles from lower difficulties if you complete a higher difficulty.
Reward Titles
Title
Difficulty
The Abyssal
Bronze
The Dark
Silver
The Beast
Gold
Slayer Master
Platinum
This Distraction/Diversion Guide was written by Javezz and Owain. Thanks to Rooskii for corrections.
This Distraction/Diversion Guide was entered into the database on Tue, Oct 07, 2014, at 12:40:37 PM by Javezz, and it was last updated on Sun, Jan 01, 2017, at 12:02:11 AM by Rooskii.
If you see this guide on any other site, please report it to us so we can take legal action against anyone found stealing our content. This guide is copyrighted by RuneHQ, and its use on other sites is expressly forbidden. Do not ask if you can use our guides or images, the answer is and always will be NO!
Print this page with images - Back to the Distraction/Diversion Guide Index Page - Back to Top