Is this Distractions and Diversions Safe to play?:
Yes
Resets:
Skills Required:
Skills Recommended:
None.
Quests Required:
None.
Items Needed:
A large amount of all rune types in your bank or inventory.
Items Recommended:
None.
Starting Point:
To Start:
Getting Started:
Rewards:
You can click on your Vis Wax to select what you want to use it for.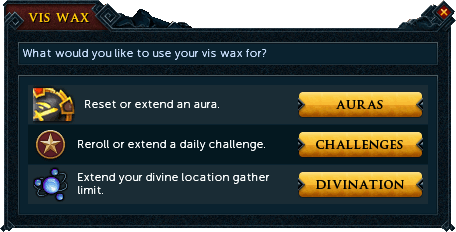 The amount of wax used depends on which option you choose:
Reset Aura Cooldown*
Auras
Cost
40
*The cooldown time of these auras can only be reset once per day.
Extend Aura Time
Auras
50% Cost
100% Cost

Poison purge
Resourceful
Greenfingers
Five-finger discount
Call of the sea
Lumberjack
Friend in need
Quarrymaster
Tracker
Enrichment
Resourceful
Regeneration
Ancestor spirits
Aegis

5
10

Surefooted
Knock-out
Equilibrium
Corruption
Harmony
Salvation
Dark magic
Berserker
Runic-accuracy
Sharp shooter

20
40
50
100
Daily Challenges
Reroll Cost
Extend Cost*
10
20
*This doubles the amount of actions required to complete a challenge and the experience and item reward once completed.
Extend Divine Locations Limit
50% Cost
100% Cost
20
40
This Distraction/Diversion Guide was written by Javezz.
This Distraction/Diversion Guide was entered into the database on Mon, Sep 15, 2014, at 01:27:18 PM by Javezz, and it was last updated on Mon, Sep 15, 2014, at 02:40:37 PM by Javezz.
If anything is incorrect or missing, or if you have any new information to submit to this database, please submit it to us on our Content Submissions Forums.
If you see this guide on any other site, please report it to us so we can take legal action against anyone found stealing our content. This guide is copyrighted by RuneHQ, and its use on other sites is expressly forbidden. Do not ask if you can use our guides or images, the answer is and always will be NO!
Print this page with images - Back to the Distraction/Diversion Guide Index Page - Back to Top