Is this Distractions and Diversions Safe to play?:
No
Resets:
Quests Required:
Items Recommended:
Starting Point:
To Start:
Contents:
Getting Started:
Rewards:
As you are spying penguins, you should notice not only that your number of penguins caught increases, but also that you are earning points. If you have completed Cold war, certain penguins (including Agents) will award you 2 points when spied. Finding all 22 "penguins" (this includes the Polar bear and Ghost penguin) can earn you up to 39 points per week without resetting. You can save up to 250 points before you must use them.
Stocked up on points, you can use them to purchase experience lamps or coins from Larry/Chuck.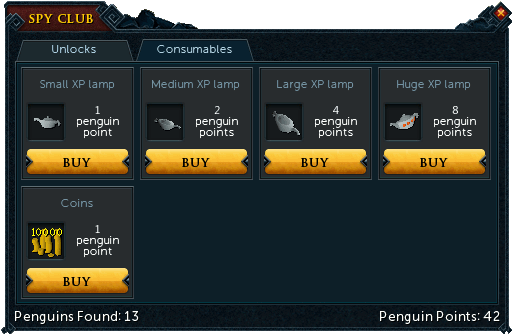 In addition to spending points, you will also earn various unlocks when you have found a certain number of penguins. These upgrades/functions/titles will automatically unlock when you have hit the appropriate number of penguins spied and you will receive an in-game announcement at that point.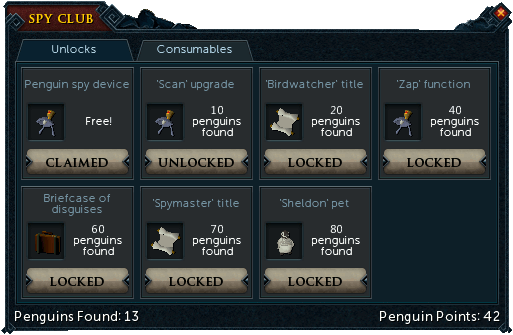 This Distraction/Diversion Guide was written by ChathMurrpau. Thanks to previous guide writer: Realruth, as well as Radmite, Hilwin1, Dwayne_Dibly, Diamondi3ack, Eragon7985, dragoon889, Clamball, Alfawarlord, Jaxx_2_20, Mr Tudjay, Fade Out, Senug5, and Telle for corrections.
This Distraction/Diversion Guide was entered into the database on Sat, Dec 13, 2008, at 02:55:45 PM by Knight9693, and it was last updated on Wed, Oct 14, 2020, at 11:47:31 PM by Chath.
If anything is incorrect or missing, or if you have any new information to submit to this database, please submit it to us on our Content Submissions Forums.
If you see this guide on any other site, please report it to us so we can take legal action against anyone found stealing our content. This guide is copyrighted by RuneHQ, and its use on other sites is expressly forbidden. Do not ask if you can use our guides or images, the answer is and always will be NO!
Print this page with images - Back to the Distraction/Diversion Guide Index Page - Back to Top