Is this Distractions and Diversions Safe to play?:
Yes
Resets:
Items Needed:
Entry ticket
Starting Point:
To Start:
Contents:
Getting Started:
Rewards:
Speak to the Fisherman to exchange Fish tokens for a variety of rewards.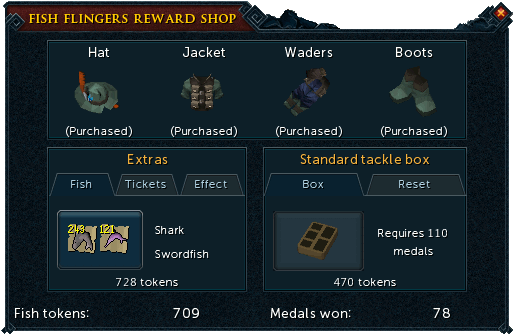 Item
Image
Cost
Notes
Fishing hat
140 Fish tokens
1% Fishing bonus when worn. 5% for wearing full Fishing skillset.
Fishing jacket
140 Fish tokens
Fishing waders
140 Fish tokens
Fishing boots
140 Fish tokens
Raw fish (noted)
Any number of Fish tokens
Gives a random number of noted fish based on your fishing level
Entry ticket
100 Fish tokens
Allows you to enter a game of Fish Flingers. You are only allow to purchase this if you currently have less than 15 entry tickets.
Effect
100 Fish tokens
Fish an extra fish during the next 20 minutes. No additional experience will be gained for the extra fish caught. It will not work on Divine fishing bubbles.
Beginner's tackle box
110 Fish tokens and 20 Medals
Stores fishing supplies (See below)
Basic tackle box
250 Fish tokens and 50 Medals
Stores fishing supplies (See below)
Standard tackle box
470 Fish tokens and 110 Medals
Stores fishing supplies (See below)
Professional's tackle box
900 Fish tokens and 230 Medals
Stores fishing supplies (See below)
Champion's tackle box
1860 Fish tokens and 500 Medals
Stores fishing supplies (See below)
The top five competitors have the option to stand on the podium located in the minigame lobby after a competition has ended. They may remain there until the end of the next competition.
Tackle boxes can potentially hold the following items...
Tools
Each level of tackle box can hold a different number of items, however, they can all hold these same tools.
Beginner's = 1, Basic = 2, Standard = 3, Professional's = 4, Champion's = 5.
Bait
Each level of tackle box has a different number of slots available and each slot can only hold so many of that type of bait. Beginner's = 1 slot of 150, Basic = 1 slot of 250, Standard = 2 slots of 400, Professional's = 3 slots of 650, Champion's = 3 slots of 1,000.
Baits include:
Gloves
Only the Professional's tackle box and the Champion's tackle box can hold gloves. They hold 1 or 2 respectively. Gloves include:
Fish
Each level of Tackle box can hold and remotely bank a specific number of fish per day. Beginner's holds 6 and banks 25, Basic holds 12 and banks 50, Standard holds 18 and banks 100, Professional's holds 24 and banks 200, Champion's holds 30 and banks 200.
ANY type of Raw Fish can be placed into the tackle box and/or automatically banked.
Other
In addition to the items already listed, it is also possible to store your Fishing skillset here. Note that you will still need to wear the outfit to obtain the bonus experience. Placing your set in here is simply good for saving bank space. All tackle boxes can hold the set.
This Distraction/Diversion Guide was written by ChathMurrpau. Thanks to Previous Guide writer: Jakesterwars as well as Ryman201, Motion_Man, Read639, Knowname, Zidane3838, Mr Tudjay, Sirius XM, 3ter 1, and Ksb Single for corrections.
This Distraction/Diversion Guide was entered into the database on Thu, Apr 22, 2010, at 09:54:45 PM by Jakesterwars, and it was last updated on Mon, Dec 17, 2018, at 04:44:49 AM by Chath.
If you see this guide on any other site, please report it to us so we can take legal action against anyone found stealing our content. This guide is copyrighted by RuneHQ, and its use on other sites is expressly forbidden. Do not ask if you can use our guides or images, the answer is and always will be NO!
Print this page with images - Back to the Distraction/Diversion Guide Index Page - Back to Top