Is this Distractions and Diversions Safe to play?:
Yes
Resets:
Skills Required:
Skills Recommended:
Quests Required:
Items Needed:
Items Recommended:
Starting Point:
To Start:
Cut the present Evil Tree.
Contents:
Getting Started:
Rewards:
Experience:
Nurturing an Evil tree sapling will gain you a certain amount of
Farming
XP. For taking part in the killing of an Evil Tree, you will receive
Firemaking
and
Woodcutting
XP. Please refer to the sections above for more detailed information on the experiences to gain.
Items:
When the Evil Tree has died, you can collect the rewards by clicking on its remains. You will always receive a number of noted logs of the same type as the Evil Tree (Elder Evil Trees can give Yew, Magic, Teak or Mahogany logs). Additionally, you will also receive a random item.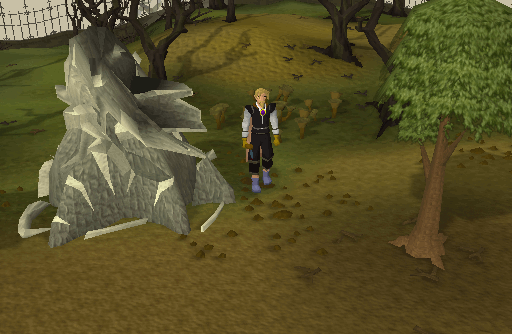 Woodcutting Boost:
The
Tool Leprechaun
will give you a temporary magical boost after you kill the tree. This magic boost reduces the chance that you will fell trees, so that you do not have to switch between trees as often. This effect does not work on trees growing at your farming patch.
Log-Banking:
The
Tool Leprechaun
also gives you a magical ability to automatically bank logs if your inventory is full, so that you can continue to cut trees even when your inventory is full. This magic log banking effect only works with the following trees: Basic, Oak, Willow, Maple, Eucalyptus, Mahogany, Teak, Yew and Magic. It does not work on Cursed Magic Trees. The maximum time this magic will last for 100% reward gained on cutting the Evil Tree depends on the tree type and is given below:
Regular - 6 minutes
Oak - 10 minutes
Willow - 14 minutes
Maple - 18 minutes
Yew - 22 minutes
Magic - 26 minutes
Elder - 30 minutes
Evil Tree Kindling:
Finally, you can sell any remaining Evil tree kindling to the The
Tool Leprechaun
for 25gp each. However, it is recommended to keep a few ready for your next Evil Tree.
This Distraction/Diversion Guide was written by Dwayne _Dibly. Thanks to thescheppel, Graystar, Clamball, Mitthy1, The_estranged_Flameshame7, zizzerkat, Hilwin1, Alfawarlord, and lungngaihim for corrections.
This Distraction/Diversion Guide was entered into the database on Sun, Apr 26, 2009, at 06:44:22 PM by MrStormy, and it was last updated on Mon, Nov 06, 2017, at 02:43:14 AM by Numerous One.
If you see this guide on any other site, please report it to us so we can take legal action against anyone found stealing our content. This guide is copyrighted by RuneHQ, and its use on other sites is expressly forbidden. Do not ask if you can use our guides or images, the answer is and always will be NO!
Print this page with images - Back to the Distraction/Diversion Guide Index Page - Back to Top