Is this Distractions and Diversions Safe to play?:
Yes
Skills Required:
None.
Skills Recommended:
Quests Required:
None.
Items Needed:
None.
Items Recommended:
Weight-reducing items.
Starting Point:
Varies between 11 locations every hour (See below).
To Start:
Getting Started:
To start the game, you will first need to find Nyriki Tapio at one of the hunting areas scattered throughout RuneScape. The easiest way to find out and reach his current location is to step through his orange portal on the first floor of the house south of the Gnome agility course, at the Tree Gnome Stronghold. Left-clicking the portal and selecting "Check" will make a timer showing when he is approximately going to spawn. Do remember that the portal can only be used 3 times a day and is a one-way portal, meaning that you will have to find your own way back. Below is a list of all the possible locations where he could be found.

Note: Nyriki Tapio's location changes every hour and the game itself can only be played twice a day. Games start at the top of every hour.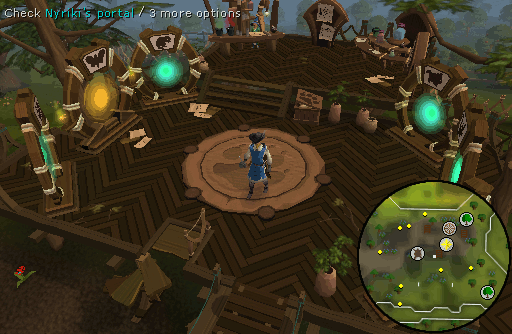 When you have found Nyriki Tapio, descend down into the nearby cave and you will be given a Moth jar. Your goal is to let the big chinchompa in the center of area fall asleep by feeding it the moths you caught. The game's interface will show you the time remaining, the amount of moths you have caught, the type of moths you have caught, and how many points you have gained so far in the current game. The bar to the left of your screen will show how sleepy the big chinchompa is. A game ends when the 20 minutes are over, or when the Plutonial Chinchompa falls asleep.

Note: You can join a game that is already in progress, but you will have less time to collect points.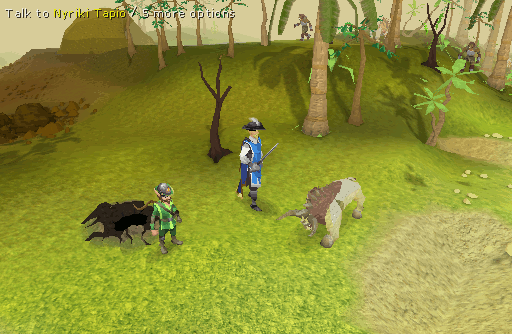 There are 2 ways to collect these soporith moths. You can either catch flying moths with your hands or by shaking the branches scattered throughout the area. It is also advised to pick and wield a Protea flower from one of the bushes in the corners of the cave. When wielded, soporith moths will occasionally be attracted by its nectar and automatically caught by you. The reason why wielding such a flower is recommended is that the attracted moths will always be the highest ones you can catch.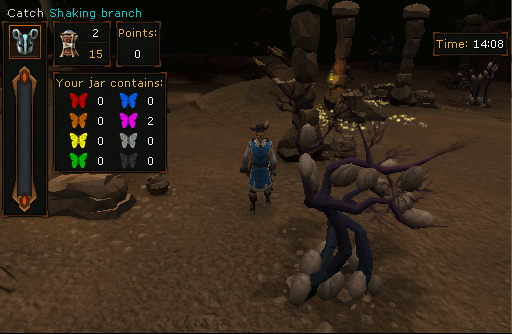 The moth jar can hold up to 15 moths. When full, moths need to be released into the Chinchompa's nest in order to gain more points. The maximum amount of points that can be gained in a game is 1500. However, after this experience may still be gained for releasing moths. One of the requirements for the Completionist cape is having gained a minimum of 1111 points in one single game.
Image
Moth
Level
Required
Experience
Points
Red soporith moth
1
15
1
Orange soporith moth
13
50
2
Yellow soporith moth
26
150
5
Green soporith moth
39
250
8
Blue soporith moth
52
300
12
Purple soporith moth
65
320
15
Grey soporith moth
78
400
18
Black soporith moth
91
450
21
Rewards:
During the game, you will receive experience for releasing and feeding the months you caught to the big chinchompa. When the game has ended the points you have earned will be turned in to Competence points. These points can be exchanged for various rewards (See below) by talking to Nyriki Tapio in the cave or to Mieliki Tapio at the portal area in the Tree Gnome Stronghold. Up to 20,000 competence points can be saved, after which you must spend some of them to earn more points.
The above mentioned quota tickets can be used to step through the private hunting ground portals right next to the orange portal on the first floor of the house south of the Gnome agility course, at the Tree Gnome Stronghold. At these hunting grounds you will be able to hunt specific creatures without having to fight with other players for a spot. Entering a portal does not use a ticket but you must have one in your inventory. When you catch a creature one ticket will be used up. If you forgot to take the needed traps then you may take 5 traps out of the chest outside of the portals. All quota tickets have a cap of 3000. If you save up that many you won't be able to buy anymore until you use some up.
This Distraction/Diversion Guide was written by Alfawarlord.
This Distraction/Diversion Guide was entered into the database on Fri, Oct 26, 2012, at 10:54:08 PM by Alfawarlord, and it was last updated on Mon, Nov 18, 2013, at 05:09:10 PM by Amoa.
If you see this guide on any other site, please report it to us so we can take legal action against anyone found stealing our content. This guide is copyrighted by RuneHQ, and its use on other sites is expressly forbidden. Do not ask if you can use our guides or images, the answer is and always will be NO!
Print this page with images - Back to the Distraction/Diversion Guide Index Page - Back to Top