Skill Levels Required:
None.
Quests Required:
None.
Items Needed:
None.
Directions:
Persons:
Monsters:
Respawns:
None.
Quests Available in the City:
City Map: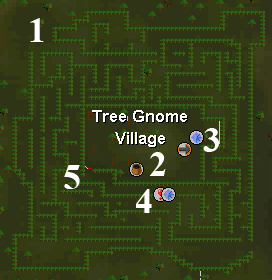 Tour:
To get to the actual city for the first time you have to navigate the maze. (After the Tree Gnome Village quest, you can talk to Elkoy who will escort you through the maze)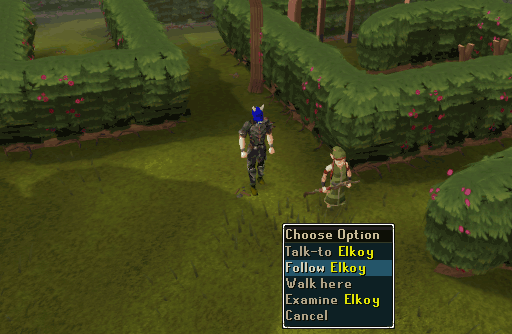 Elkoy, as mentioned before, will escort you to the center of the village after the quest. In the maze there are giants, wolves, goblins, moss giants, rats, ogres and goblins.


You can use the Gnome glider to travel to various locations around Runescape after completing The Prisoner of Glouphrie quest.




The general store, owned by Bolkoy, (upstairs)






The beginning of the Tree Gnome Village Quest. Start it by talking to the king. Here is also the spirit tree. You can use this to teleport to various places around RuneScape. Note: You can teleport to the Tree Gnome Stronghold before doing The Grand Tree quest. You cannot teleport from the Stronghold until you have done the quest.




The Dungeon here is an ok training place for lower levels and it contains Golrie for the Waterfall quest. It contains level 28 hobgoblins, level 13 zombies and some level 6 bats. It also has some skeletons.




The entrance to the village, you can get into it by squeezing through the loose railing.




This City/Area Guide was written by rohan_har. Thanks to Stinkyputz, Gondomwinges, Aakanaar, Moochles, Im4eversmart, Dgod451, Egekalaycan, and Javezz for corrections.
This City/Area Guide was entered into the database on Tue, Jul 05, 2005, at 03:24:07 PM by Im4eversmart, and it was last updated on Sat, May 12, 2012, at 04:10:48 PM by Javezz.
If you see this guide on any other site, please report it to us so we can take legal action against anyone found stealing our content. This guide is copyrighted by RuneHQ, and its use on other sites is expressly forbidden. Do not ask if you can use our guides or images, the answer is and always will be NO!
Print this page with images - Back to the City/Area Guide Index Page - Back to Top