Skill Levels Required:
None.
Quests Required:
Items Needed:
None.
Directions:
Places:
Persons:
Monsters:
Quests Available in the City:
City Map: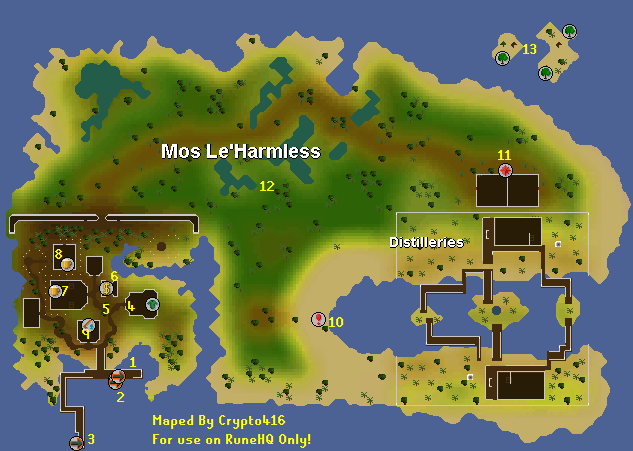 Tour:
Smithing Smith's Shop:


This shop is not located on the map. You must talk to Smith on the dock and he sells bronze through mithril scimitars. He also sells some fancy cutlasses and a rapier, but you must choose the option for them in the chat box.



He will tell you a story about the Cutlass or Rapier that you select, and then will then ask if you wish to purchase the item.



Brass Hand Harry's Cutlass = 1040 Gold Pieces
Unlucky Jenkins' Lucky Cutlass = 2560 Gold Pieces
Gentleman Mallard's Rapier = 25.6K Gold Pieces





Bill Teach:


Here you can ask Bill Teach to take you back to Port Phasmatys aboard The Adventurous, Bill Teach's ship.





The Charter Ships:


Here is the Charter Ship. These guys will take you all over Runescape wherever they have ports for the right amount of coins that is. Having a Ring Of Charos(a) will decrease the amount of coins needed to charter a ship. The cost to use the Charter Ships can be found in the Transportation Guide.
The Charter Ships also have a shop! You may sell or buy any items here. It functions as any normal General Store.






Dodgy Mike's Second Hand Clothing:


Here is Dodgy Mike's Clothing Store! He will sell you any pirate clothing set that you fancy. All clothing costs the following prices, no matter the color.





Patchy:


Patchy will sew any eye patch on a bandana or a pirate hat for 500 gold pieces! No less! Patchy will also de-attach an item for 600 gold pieces.





Bank:


Arr, yes the bank! Forgot some of your fancy armor to go kill Jungle Horrors and dont want to walk all the way back to Port Phasmatys? Well this is the place for you! This place functions as any normal bank would.





The Other Inn:


Welcome to The Other Inn where they sell the rum that's called Braindeath 'rum' The person named Mama will happily serve you, as long as you have your Book o' Piracy. If you don't have it, you can talk to Bill Teach in this very same bar for another.





Harpoon Joe's House of 'Rum':


This is Harpoon Joe's House of 'Rum'. He sells Wine, Stew, Beer, and that rum called Braindeath 'rum' also.





Two Feet Charley's Fish Shop:


Welcome to the fishing store! Charley here will sell you anything from Shrimps to Swordfish.





Cave Horror's Cave:


This is the entrance to the Cave Horrors and Albino Bats. Cavey Davey is nearby to warn you about what you need before you go in. Don't forget your Witchwood Icon and a light source! The Cave Horrors are level 80 combat and the Albino bats are level 52. Please refer to the Cave of Horrors Map for more information. There is also a Summoning obelisk right next to the entrance.





Trouble Brewing:


Welcome to the Trouble Brewing Mini-Game. This is where you can play for some of the fancy navy clothes that you see people walking around in! Be sure to check out the Trouble Brewing Mini-Game Guide! There's also a Safety Deposit Box here to deposit items in. Although you cannot withdraw items here.





The Jungle:


Welcome to the jungle. Here is where you can find Jungle Horrors, Snakes, Giant Mosquitoes, and Monkeys. Jungle Horrors are slayer monsters and are level 70 combat. The snakes can be killed for their hide, it is 100% drop and can be made into Snakeskin armor! However, the snakes can poison you for up to 3 damage per hit. The snakes are level 35 Combat. The Mosquitoes are level 13 and are killed for their occasional loot, Proboscis. The Monkeys are level 3 and drop Monkey Bones.





The Islands:


The islands have Mahogany and Teak trees on them and they can be accessed by walking through the Cave Horror's cave. Do not forget your Witchwood Icon and your light source if you choose to use these trees. There are two staircases at the northeastern end of the Cave Horror cave. The smaller island of the two has one Mahogany and one teak tree. The larger island also has one Mahogany and one Teak tree.


This City/Area Guide was written by Crypto416, and The Peleton. Thanks to Fireball0236, halk 5, watsermetjou, jakesterwars, Mythiquedame, Chaosblade77, Scorchy_Devil, Watsermetjou, Maonzhi, thethird0611, and II_Stoney_II for corrections.
This City/Area Guide was entered into the database on Wed, Mar 01, 2006, at 10:36:32 AM by Eliminat0r93, and it was last updated on Tue, Aug 14, 2012, at 06:17:22 AM by Greg.
If anything is incorrect or missing, or if you have any new information to submit to this database, please submit it to us on our Content Submissions Forums.
If you see this guide on any other site, please report it to us so we can take legal action against anyone found stealing our content. This guide is copyrighted by RuneHQ, and its use on other sites is expressly forbidden. Do not ask if you can use our guides or images, the answer is and always will be NO!
Print this page with images - Back to the City/Area Guide Index Page - Back to Top