Skill Levels Required:
None.
Quests Required:
None.
Items Needed:
None.
Directions:
Places:
Persons:
Monsters:
Respawns:
Quests Available in the City:
City Map: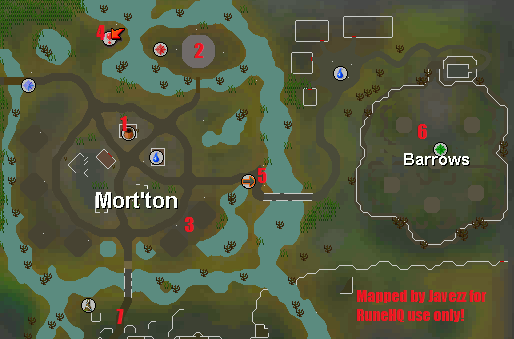 Tour:
Razmire's Stores:


Once cured with Serum 207 (temporary) or Serum 208 (permanent), you can use Razmire's general store or purchase supplies to repair the nearby temple.






The Temple:


This is the Flamtaer Temple which features in the Shades of Mort'ton minigame. By rebuilding the temple, you will gain sanctity and can create Sacred oil to make pyre logs for shade burning. It is recommended to use the official world (88) when playing this game as attempting to rebuild the temple on your own is very difficult.





Funeral Pyres


These funeral pyres are used to burn shade remains with pyre logs and provide you with a key to use in the Mort'ton catacombs (see our Shades of Mort'ton guide for more information).





Shade Catacombs


This is the entrance to the catacombs beneath Mort'ton. In here you can use the keys obtained from burning shades to unlock reward chests.





Swamp Boat


If you have taken the boat from The Hollows in Mort Myre, this is where you will arrive on Mort'ton. You can also pay Cyreg Paddlehorn 10gp to travel back to The Hollows.





The Barrows


To the west of Mort'ton are the tombs of six warrior brothers (seven after Ritual of the Mahjarrat). Adventurers brave enough to enter these tombs and defeat the spirits of the brothers may be rewarded with parts of their armor and weaponry. For more information, see our Barrows minigame guide.





Burgh de Rott Entrance


To the south of Mort'ton is entrance to the town of Burgh de Rott. The town can only be accessed after starting In Aid of the Myreque.




This City/Area Guide was written by Javezz.
This City/Area Guide was entered into the database on Wed, Jul 27, 2005, at 09:28:34 PM by DRAVAN, and it was last updated on Wed, Apr 27, 2016, at 02:52:50 AM by Dark.
If you see this guide on any other site, please report it to us so we can take legal action against anyone found stealing our content. This guide is copyrighted by RuneHQ, and its use on other sites is expressly forbidden. Do not ask if you can use our guides or images, the answer is and always will be NO!
Print this page with images - Back to the City/Area Guide Index Page - Back to Top