Directions:
Places:
Lumbridge castle, Smithy, Tree patch, Fishing shop, and the Combat Academy.
Persons:
Monsters:
Respawns:
Quests Available in the City:
City Map: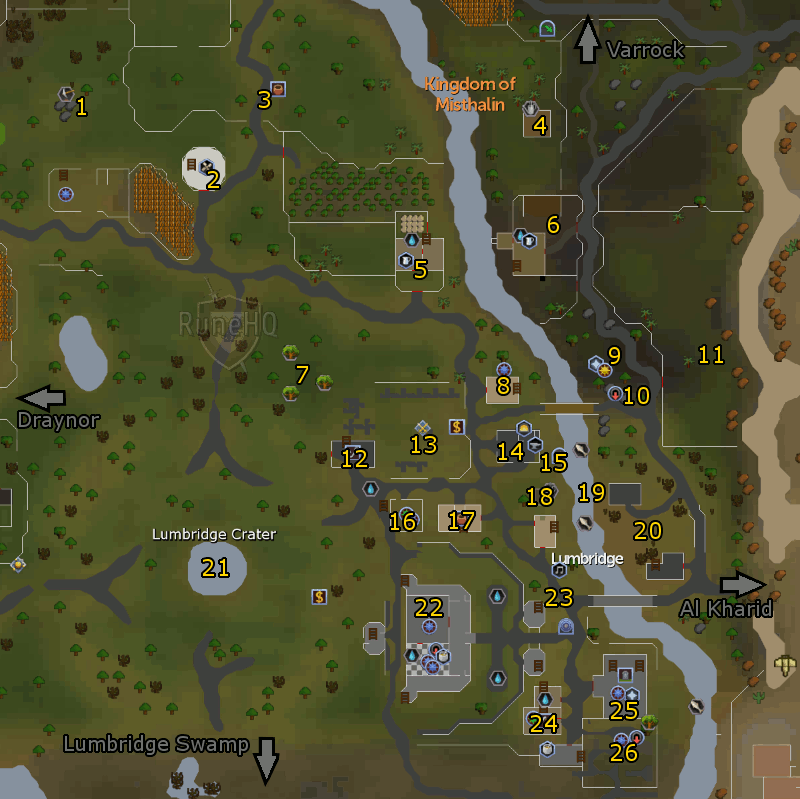 Tour:
This City/Area Guide was written by ChathMurrpau. Thanks to previous guide writer: jb sk8ter12, as well as Hampster_Hat, Imperial G96,Watsermetjou, Alientech, Boy 1331, Fireball0236, Halk_5, Scorchy_Devil, Alfawarlord, Meowmix686, Maonzhi, Jakesterwars, Sheep01, Andro_Girl, Runehq User, Ventura2oo5, Ralkal, Crablogger, Javezz, and yumyumtoast for corrections.
This City/Area Guide was entered into the database on Sun, Apr 18, 2004, at 07:53:30 PM by stormer, and it was last updated on Thu, May 16, 2019, at 02:14:54 AM by Chath.
If anything is incorrect or missing, or if you have any new information to submit to this database, please submit it to us on our Content Submissions Forums.
If you see this guide on any other site, please report it to us so we can take legal action against anyone found stealing our content. This guide is copyrighted by RuneHQ, and its use on other sites is expressly forbidden. Do not ask if you can use our guides or images, the answer is and always will be NO!
Print this page with images - Back to the City/Area Guide Index Page - Back to Top