Skill Levels Required:
None.
Quests Required:
Items Needed:
None.
Directions:
Teleport crystal
Upon starting
Mourning's Ends Part I
,
Eluned
will give you a
Teleport crystal (4)
. This crystal will enable you to teleport to the the city of Lletya. When you receive it for the first time, it will have 4 charges. After that, Eluned will charge you money for the supplies that she needs to recharge the crystal. The first time, it will take 750gp to recharge. The price will go down the more you recharge it. Each recharging will give you 3 charges. Take these crystals back to Eluned, and she will recharge them.
Recharge Prices:
1st Time: 750 gp
2nd Time: 600 gp
3rd Time: 450 gp
4th Time: 300 gp
Every Time After: 150 gp
On Foot:
If you wish to go to Lletya and you do not have the crystal, then there is another way to get to the village. Follow the red line from either the Tiranwynn Lodestone, Arandar Pass or Underground Pass on the map bellow and you will find yourself at the entrance to the village.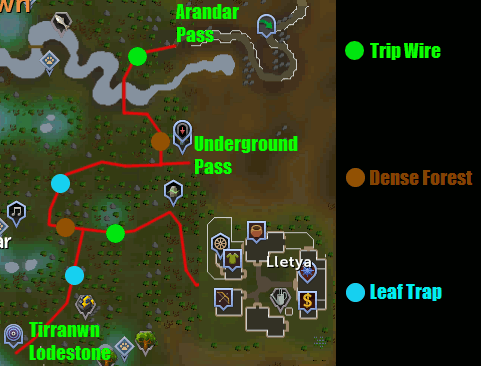 Places:
Lletya General Store, Lletya Seamstress, Lletya Archery Shop, Lletya Food Store.
Persons:
Amaethwr
,
Arianwyn
,
Arvel
,
Banker
,
Dalldav
,
Eoin
,
Eudav
,
Gethin
,
Goreu
,
Iona
,
Kelyn
,
Mawrth
,
Oronwen
,
Teclyn
, and
Ysgawyn
.
Monsters:
Quests Available in the City:
City Map: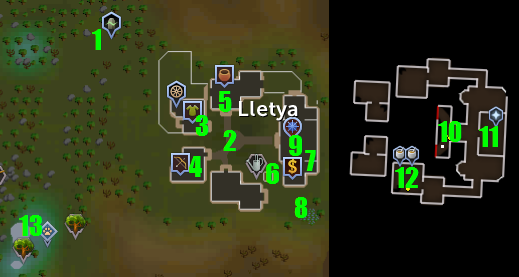 Tour:
Entrance:


To enter Lletya, you will need to have at least started Mourning's Ends Part I. After the quest, you can enter Lletya from Isafdar by finding and passing through the two trees shown below. Just past the trees you'll find a small obelisk for recharging your Summoning points and a short path that leads to the village.


Village Centre:


In the centre of the village you will find a well and a number of Elf warriors and villagers wandering around. The warriors can be killed to obtain Teleport crystals and the citizens can be pickpocketed at level 85 Thieving. Additionally, if you have completed The Prisoner of Glouphrie, then you will also find Ilfeen here for Crystal seed recharges instead of the two locations she switches between in Isafdar.


Lletya Seamstress:


Oronwen is the Lletya seamstress and is the only person who sells bottles of pre-made dye in all colors. You will also find a spinning wheel here which you could use to spin wool sheared from the sheep in the field north of the building.


Archery Shop:


Dalldav runs the Lletya Archery Shop and sells a selection of Ranged weapons and ammunition.


General Store:


Eudav runs the Lletya General Store.


Fruit Tree Patch:


Lletya has a fruit tree patch which can be looked after by Amaethwr. This patch is also unique in that rather than having the normal tool leprechaun, it instead has Teclyn, who is simply an elf dressed similarly to a leprechaun.


Bank:




Flax Field:


Just southeast of the bank you will find a small Flax field which is possibly the best location in the game to pick Flax.


Arianwyn:


Arianwyn is the leader of a group of rebel elves fighting against Lord Iorwerth and is the start point of Mourning's Ends Part I, Mourning's Ends Part II and Within the Light.


Upper Floor:


The upper floor of Lletya can be accessed by climbing any of the ladders in the village buildings. This is a fairly quiet area with just two Elf warriors and Kelyn wandering around. However, there are two further places of interest as detailed below.


Altar:


Directly south of the ladder is a small shrine dedicated to Seren, the goddess of the elves, with an altar you can use to recharge your Prayer points. This can be useful for lower-level players who may want to use protection prayers while fighting the warriors in the village.


Food Store and Ranges:


Gethin runs the Lletya Food Store on the upper floor and sells a small variety of foods. There are also two ranges here, although they are a too far from the bank to be of any use.


Forest Clearing:


Although not actually part of the village, the nearby forest clearing found southwest of it is worth mentioning. This is an excellent location for those with a high Woodcutting or Hunter level and as there are two Magic and one Elder tree found here, as well as a numer of Pawyas. All of the resources gathered here can then be banked fairly quickly in Lletya. Additionally, this is one of two locations in which the roving elves, Eluned and Islwyn temporarily set up camp.

This City/Area Guide was written by Javezz. Thanks to withacount, Alfawarlord, DRAVAN, Ruzzy, and Hilwin1 for corrections.
This City/Area Guide was entered into the database on Wed, Aug 17, 2005, at 11:29:56 PM by DRAVAN, and it was last updated on Tue, Sep 02, 2014, at 07:09:50 PM by Javezz.
If you see this guide on any other site, please report it to us so we can take legal action against anyone found stealing our content. This guide is copyrighted by RuneHQ, and its use on other sites is expressly forbidden. Do not ask if you can use our guides or images, the answer is and always will be NO!
Print this page with images - Back to the City/Area Guide Index Page - Back to Top