Quests Required:
Directions:
You can go to one of these islands by talking to Mord Gunnars (for Jatizso) or Maria Gunnars (for Neitiznot) in Rellekka.
City Map: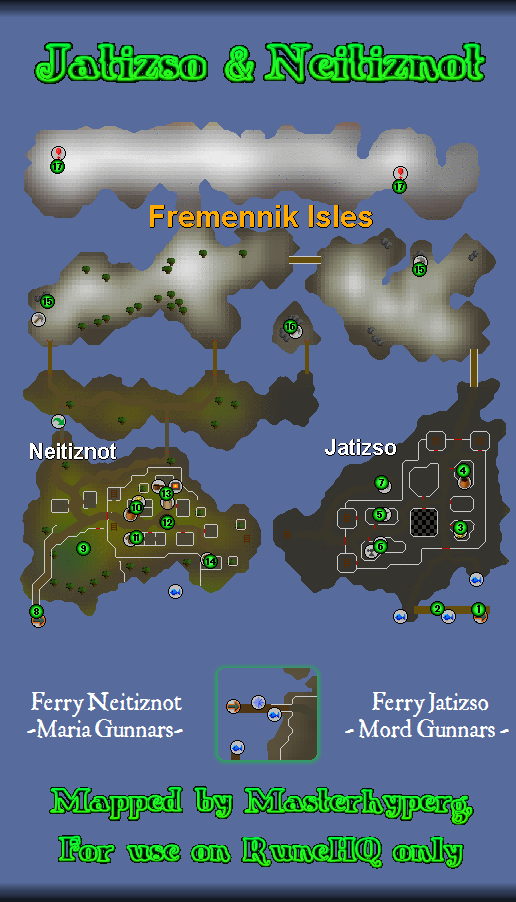 Tour:
Jatizso Docks:


These are the docks of Jatizso, from this point you can get back to Rellekka. To do this, talk to Mord Gunnar or right click him and select the "Ferry-Rellekka" option.





Fishing spots:


Around the docks and the coast, you can fish for tunas, swordfishes, and sharks.





Bank:


Here, you will find the bank of Jatizso. It has no bank deposit box.





General store:


The mini-map says general store, but it actually isn't one. These stores are rather food stores. The stores only sell food and you can't sell them anything they don't have in stock.

Trade Keepa Kettilon to buy cooked food from him.



Trade Flosi Dalksson to buy raw food from him.





Weapon store:


The weapon store sells several Mithril weapons. Which weapons and which price is shown in the image below. Also, this shop has some anvils which can be used to smith on. This spot is not very far from bank. Though there are closer ones.





Armour and Ore store:


In this building you can buy all sorts of mithril armor and all ores up to adamantite.





Jatizso Dungeon Mine:


The entrance to the Jatizso Dungeon Mine is located North-east of the western entrance to Jatizso. The mine has Coal and Mithril in it and access to the Elite Dungeon, which has Banite, requires the Fremennik Sea Boots 4. Hallvar is located in the Elite Dungeon. Remember to watch out for Ice trolls.



Neitiznot docks:


These are the docks of Neitiznot. From this point you return to Rellekka by talking to Maria Gunnar or by selecting the "Ferry-Rellekka" option.





Yak field:


This field is full of Yak (level 42), which drop bones, raw yak meat, hair, and yak-hide. The hair can be turned into a rope on a spinning wheel. You can make some armor from the yak-hide with a needle and thread, after curing it.





Neitiznot bank and General store:


Neitiznot also has a bank, but no bank deposit box either. In the bank is also a "general" store. However, it does not accept any items it doesn't have in stock already, just like the one in Jatizso.



At the back of the bank you will find Slug Hemligssen, who player a role in the Fremennik Isles quest.





The Burgher:


In this building you will find two useful NPC's. If you lost your helm of Neitiznot you can buy one back from the Burgher (for 50K cash). Secondly you can cure your Yak-hide here, to do this right mouse Thakkrad Sigmundson in the south-west corner and click "Craft-goods". The costs are 5gp each and you can't tan any other hides here.





Large Geyser:


You can get some water from this geyser by using a bucket on it.





Woodcutting stump, Clay furnace, and Range:


The woodcutting stump is used to make a wooden Fremennik shield or a split pine (you need these for the Fremennik Isles quest.) These two items are made from Artic Pines which can be found around the island. The furnace is used to smelt ores in or to make Jewelery, it might be different by it's look but it functions the same as a standard furnace. The range is used to cook food on, it works the same as a regular range. This range is pretty close to the bank.





Spinning wheel:


You can spin items such as flax, wool, and hair here. This is the closest spinning wheel to a bank in RuneScape.





Copper mines:


These Locations have been removed from the game.

Drakolith Mine:




Above ground the Fremennik Isles Mine contains 5 Drakolith rocks.





Ice Troll dungeon:


These are the entrances to the Ice Troll dungeon. This cave must be accessed during the Fremennik Isles quest. To enter the cave during the quest you must enter through the eastern entrance. After the quest you must use the one on the west in order to enter the cave.




This City/Area Guide was written by Masterhyperg. Thanks to Tutanhkamun3, Mythiquedame, Andro_Girl, evilpengwinz, Cedros_Man, JoeC, Scorchy_Devil, Mimz, Ksb Single, and Ice_blade736. for corrections.
This City/Area Guide was entered into the database on Mon, Jun 25, 2007, at 01:28:15 AM by Jakesterwars, and it was last updated on Sat, Mar 16, 2019, at 04:06:19 PM by KsbSingle.
If you see this guide on any other site, please report it to us so we can take legal action against anyone found stealing our content. This guide is copyrighted by RuneHQ, and its use on other sites is expressly forbidden. Do not ask if you can use our guides or images, the answer is and always will be NO!
Print this page with images - Back to the City/Area Guide Index Page - Back to Top