Skill Levels Required:
None.
Quests Required:
None.
Items Needed:
None.
Directions:
Places:
Draynor Manor.
Persons:
Aggie
,
Bank guard
,
Bank guard (In Tree)
,
Banker
,
Diango
,
Fortunato
,
H.A.M. Deacon
,
H.A.M. Member (Man)
,
H.A.M. Member (Woman)
,
Jimmy the Chisel
,
Joe
,
Johanhus Ulsbrecht
,
Lady Keli
,
Leela
,
Miss Schism
,
Morgan
,
Musician
,
Ned
,
Prince Ali
,
Professor Oddenstein
,
Town Crier
,
Veronica
,
Wise Old Man
, and
Witch
.
Monsters:
Black knight
,
Ghost (level 19)
,
Giant spider (level 2)
,
Goblin (level 2)
,
H.A.M. Guard (level 12)
,
H.A.M. Guard (level 18)
,
H.A.M. Guard (level 22)
,
Jail guard
,
Rat
,
Skeleton (level 22)
,
Spider (level 1)
,
Woman (level 2)
,
Zombie (level 13)
, and
Zombie (level 24)
.
Respawns:
Air rune
,
Bucket
,
Bronze med helm
,
Cheese
,
Fish food
,
Logs
,
Poison
,
Rubber tube
,
Shears
,
Spade
,
Tinderbox
, and
Tomato
.
Quests Available in the City:
City Map: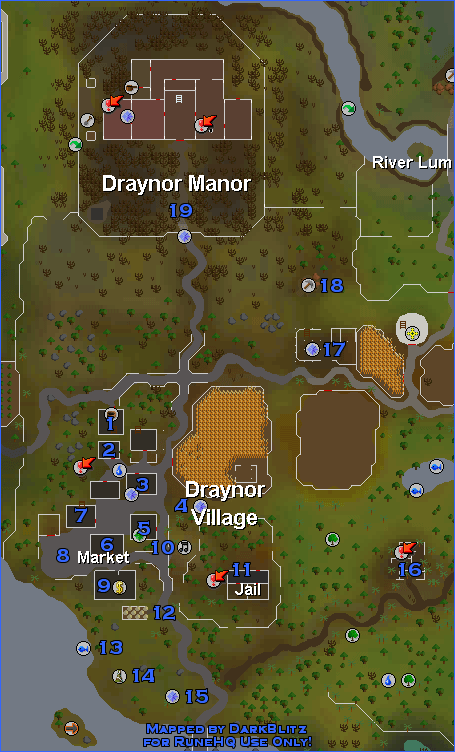 Tour:
Pottery House:


Inside this house there is an oven available for making Pottery. For more information please view our Crafting guide.


Pixie Workshop:


Back in Christmas 2005, you were able to go down the trapdoor in this house and help some pixies paint Christmas tree decorations and make marionettes. Now the trapdoor is closed, but there is a large crate with marionettes in so you can take one if you lost the one you received at Christmas. You can't get one unless you helped the pixies and got a marionette from under the tree in Varrock. Slightly west of the house is the entrance to Draynor sewer. There is an anvil down there which you can use for smithing.


Vampire Slayer Quest Start:


Talk to Morgan to start the Vampire Slayer. Upstairs there is a Level 2 Woman and a cupboard with an endless supply of Garlic.


Leela:


Here you can find Leela and a large Wheat field. Leela is part of the Prince Ali Rescue and Missing My Mummy Quests.


Ned's House:


Here you can find Ned. If you bring him 4 balls of wool he can make you a rope- or you buy one for 15gp. Ned is also part of the Dragon Slayer and Prince Ali Rescue Quest. There is a fireplace in the house too, which you can use to cook food.


Wise Old Man:


In the house opposite the bank lives the Wise Old Man. You can talk to him and he will help you clear your bank of non-member quest items. You can also do small quests for him, such as delivering letters and getting him certain items. For doing these he rewards you with seeds or prayer exp. These are members only. You can ask him questions too. There are many bookcases in the house, search them and you may find a book to read. There is also a telescope upstairs which points towards the Wizards Tower. Is he going to rob this like he did with the bank? Only time will tell...


Aggie's House:


This is the house of Aggie the witch! She will make dyes for you if you give her the right ingredients. In the house there is also a cheese and a tomato respawn.



-

To make yellow dye you need: 2 Onions and 5gp.


-

To make red dye you need: 3 Redberries and 5gp.


-

To make blue dye you need: 2 Woad leaves and 5gp.


Draynor Market:


Draynor Market has two seed stalls where you can steal seeds (Level 27 Thieving) and two Master Farmers who you can pickpocket for seeds (Level 38 Thieving).




- Olivia:


You can buy seeds by trading with Olivia. This is what she sells:




- Diango:


You can also buy toy horses and spinning plates from Diango. Here is what he stocks. He will also replace lost holiday items, if you had them. For more information on these holiday items, refer to the Rare Items special report.




- Master Farmer:

Next to the pig pen, you can talk to a Master Farmer and start the Fairy Tale Part I, A - Growing Pains quest or the Fairy Tale Part II, A - Cure a Queen quest.



- Fortunato:

You can buy jugs of wine, bottles of wine, and empty jugs from Fortunato:


Bank:


Draynor Bank was once robbed by the Wise Old Man who lived just opposite from it. Talk to the Bank Guard outside and he will show you footage of it happening. Up a tree to the west of the bank there is also a guard who is keeping an eye on the Wise Old Man.


Musician:


In the middle of the village path you can find a Musician. Here you can listen to some music and recharge your run energy.


Jail:


The Jail plays a key part in the Prince Ali Rescue quest. Level 26 Jail Guards walk around it- if you're a low level be careful as they will attack you. There are also a couple of Nettle patches around it, make sure you are wearing leather gloves before you pick them though! There is a trapdoor that leads into Draynor Sewer too.


Onion Patch:


Just outside the bank you will find an onion patch. These will be helpful when you need potions from Aggie the witch.


Willows and Fishing Spots:


There are five willow trees here and as they are right next to the bank, they are good for training woodcutting on. There are also a couple of fishing spots for bait fishing, and small net fishing.


Small Obelisk:


Here, you will find a small obelisk, which is only useful for recharging your Summoning points.


Swept Away quest start:


You can speak to Maggie down here to start the Swept Away quest. Don't be put off by her skeleton animals!


H.A.M Dungeon:


This is the entrance to the H.A.M Dungeon (Humans Against Monsters). Down there are HAM Followers who you can pick pocket or kill. You have to pick lock the trapdoor first though, but you don't need a lock pick for that.


Love Story quest start:


Here you can find a girl named Mabel. Speak to her to start the Love Story quest.


Clay Mine:


This mine holds 5 clay rocks ready for mining. For more information please visit our Mining guide.


Draynor Manor:


Just outside the gates of Draynor Manor is Veronica, who starts the Ernest the Chicken quest. In the Basement of the Manor, is the Count from the Vampire Slayer quest. Also in the manor are Ava, who starts the Animal Magnatism quest, and a Witch is part of the same quest.

This City/Area Guide was written by Darkwiz. Thanks to Andro_Girl, Pirate Bob, aquapunk0, the_peleton, Fireball0236, Watsermetjou, Fivestar24, Alfawarlord, DarkBlitz, greatgecko, and Scott for corrections.
This City/Area Guide was entered into the database on Tue, Mar 16, 2004, at 06:42:42 PM by Wiz-Master, and it was last updated on Mon, Apr 22, 2013, at 03:31:00 PM by Javezz.
If anything is incorrect or missing, or if you have any new information to submit to this database, please submit it to us on our Content Submissions Forums.
If you see this guide on any other site, please report it to us so we can take legal action against anyone found stealing our content. This guide is copyrighted by RuneHQ, and its use on other sites is expressly forbidden. Do not ask if you can use our guides or images, the answer is and always will be NO!
Print this page with images - Back to the City/Area Guide Index Page - Back to Top