Skill Levels Required:
Quests Required:
Directions:
Venturing to Cyclosis can be done by speaking with the Quartermaster Gully found in
Port Sarim
, after finishing
Impressing the Locals
, as well as having Cyclosis unlocked within the player-owned port.
Places:
The City square, Dead Moi, and Salty crabletines.
Persons:
Monsters:
Quests Available in the City:
City Map: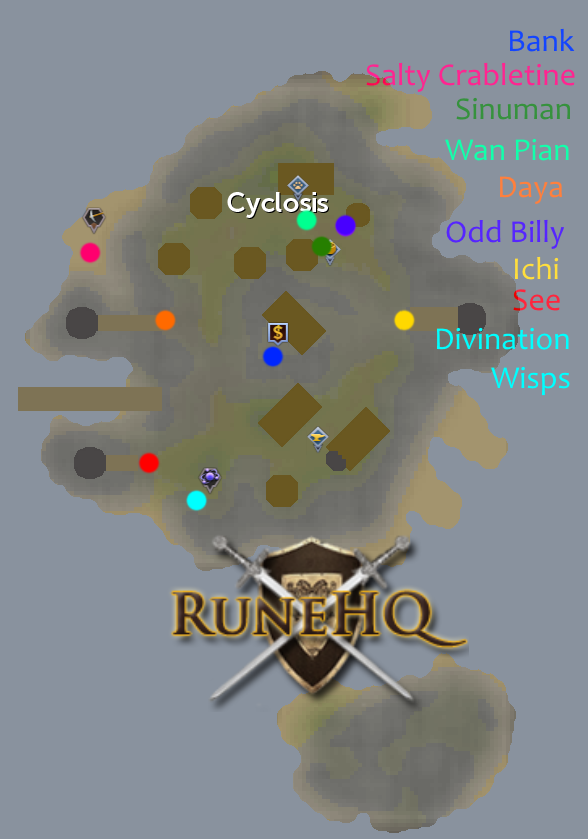 Tour:
The Arc:


To access the Arc, you must have first complete Impressing the Locals and then speak to Quartermaster Gully located in Port Sarim. One of the fastest ways of reaching Gully is by teleporting to your Player-Owned port via the Captain's log, and exiting to Port Sarim.





Arrival:


Upon speaking to Quartermaster Gully, you will be presented with the following pop-up screen. This is your main way to travel within the Arc. From here, you can travel to Waiko, Aminishi, Whale's Maw, Tuai Leit, Cyclosis, Goshima, The Islands That Once Were Turtles, or Uncharted isles.




The Dead moai is used to gather energy for the Divination skill. You can obtain positive energy here.




The Junk of One Cyclops is a shop that is ran by Wan Pian. You can sell your sea shells and Driftwood for Chimes.




On the North-Western shore of Cyclosis, you can find Salty Crabletines, which you can mine for Sea salt.


In the center of Cyclosis, you can find the bank, hosted by Kotahi
. There are pickpocketable Cyclops nearby as well.




Located on the Eastern coast of Cyclosis, you can find Ichi
, leader of the Cyclops. He is a participant in the Eye for an Eye mini-quest.




This City/Area Guide was written by DRAVAN and Rooskii.. Thanks to Owain121, Chathmurrpau, and DarkAdvisor. for corrections.
This City/Area Guide was entered into the database on Tue, Jan 10, 2017, at 03:25:37 AM by DRAVAN, and it was last updated on Sat, Feb 25, 2017, at 10:55:41 PM by Rooskii.
If anything is incorrect or missing, or if you have any new information to submit to this database, please submit it to us on our Content Submissions Forums.
If you see this guide on any other site, please report it to us so we can take legal action against anyone found stealing our content. This guide is copyrighted by RuneHQ, and its use on other sites is expressly forbidden. Do not ask if you can use our guides or images, the answer is and always will be NO!
Print this page with images - Back to the City/Area Guide Index Page - Back to Top