Table of Contents: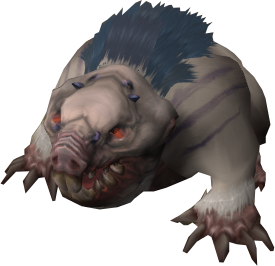 The Giant Mole can be found in caves beneath the park in Falador. Take a light source and a Spade to Falador park, stand on a mole hill, and then dig to enter the caves. The Giant Mole respawns in the center of the tunnel.
The mole tends to attack the weakest person in the room the most. It can hit up to 230 damage, making it a formidable opponent. When you are in combat and the Giant Mole is losing, it will flee by digging away. There are 12 places where he can dig up, shown later on in this guide on the map. When it is low on health it will flee faster than when it is close to full hitpoints.


You can get into the cave by digging on a mole hill in Falador Park. If you don't have a light source, your character will not go in.




To get out of the caves, go to the far south. There you will see a room with a little lake in the center. Walk to the middle and climb the rope. You will then appear outside of a well, on the southern edge of Falador.


Note: The giant mole can be poisoned. To take advantage of this, we recommend you taking a poisoned dragon dagger or any other poisoned weapon on your hunting trip. Since this monster is weak to Ranged attacks, it is recommended to bring a Dwarf cannon if you wish increase the amount of kills during a trip
Here are some examples of the inventory and armor that you can choose to wear, based on the attacking style of your choice. You can choose lighter armor, or different weapons. This is just a rough guideline of some of the best equipment available.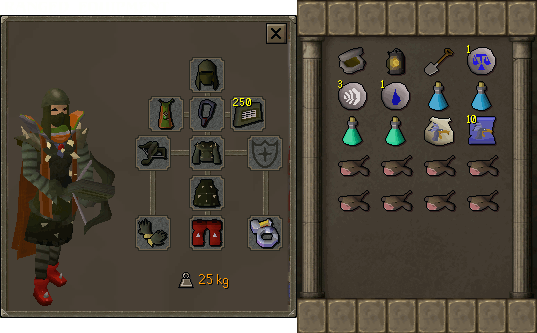 As you can see on the above map, the Giant Mole digs up near every end of the cave. Killing it alone is very difficult since it always burrows away from you. The best way to defeat it is to bring a team of people to assist you.
When the mole spawns in the middle, everyone should jump in and attack it. When it gets to about half of its hitpoints, it will dig away to another part of the tunnel. Now, everyone should take off and run to different areas of the tunnel. For example, if you have 2 people, one person searches the south half of the tunnel, while the other searches the north half.
The best thing to do is communicate via clan chat with the other members of your team if you have found the mole. Wait for everyone to get to where the mole is before attacking it though. The reason being that the mole will usually dig away after a few hits. The more people you have attacking it, the more damage can be done before he does dig away.
While trying to kill the mole by yourself can take longer, it really isnít that much harder. The hardest part of trying to kill the mole is actually finding out where he is. This will require a lot of running around. Donít forget to drink Energy potions, or use the rest feature, if you start to run low on energy.


When the Giant Mole dies, he will always drop a Mole Claw, and between 1-3 Mole Hides. For a full list of all the items it drops, please refer to the Giant Mole in our Monster Database.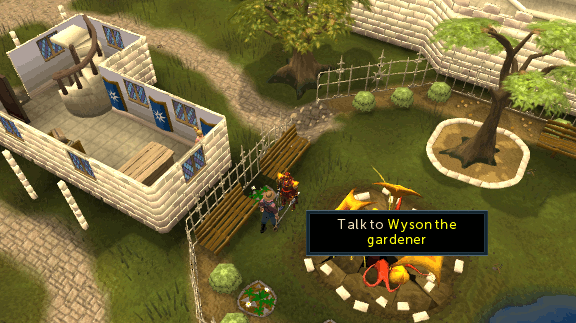 If you do manage to get some Mole Claws and Hides, you can then trade them to Wyson the gardener in Falador Park for Bird nests. If you have completed the Achievement Diary: Falador, and are wearing the Falador shield (3) when you speak to Wyson, he will also reward you with an additional 1 White lily seed for every Mole Hide. Below is a table that shows all the types of seeds and items you can get from these nests.
| | |
| --- | --- |
| Item Type | Item Name |
| Allotment Seeds | Potato (14), Onion (11), Cabbage (9), Tomato (6), Sweetcorn (3), Limpwurt (2), Strawberry (3), Ranarr (1), Watermellon (2) |
| Rings | Gold, Sapphire, Emerald, Ruby, Diamond |
| Tree Seeds | Acorn (1), Willow (1), Maple (1), Yew (1), Magic (1), Spirit (1) |
This Special Report was written by Zevenberge. Thanks to SaxRox, watsermetjou, 666megaminer, poj7326, Fivestar24, towelhead, carduel, mpb219, mjoed1021, halk 5, theamazingbender, andro_girl, Fireball0236, Im4eversmart, evilishies, Yeldarb12, and Motion Man for corrections.
This Special Report was entered into the database on Sun, Apr 16, 2006, at 08:08:02 PM by Im4eversmart, and it was last updated on Mon, Oct 08, 2012, at 03:47:30 PM by Alfawarlord.
If you see this guide on any other site, please report it to us so we can take legal action against anyone found stealing our content. This guide is copyrighted by RuneHQ, and its use on other sites is expressly forbidden. Do not ask if you can use our guides or images, the answer is and always will be NO!
Print this page with images - Back to Previous Page - Back to the Special Report Index Page - Back to Top