Skill Levels Required to Enter Area:
The rocks next to the Ice Warriors require level 50 mining.
Quests Required to Enter Area:
None.
Items Needed to Enter Area:
None.
Directions:
Quests Available in the Area:
Nearest Bank:
Map: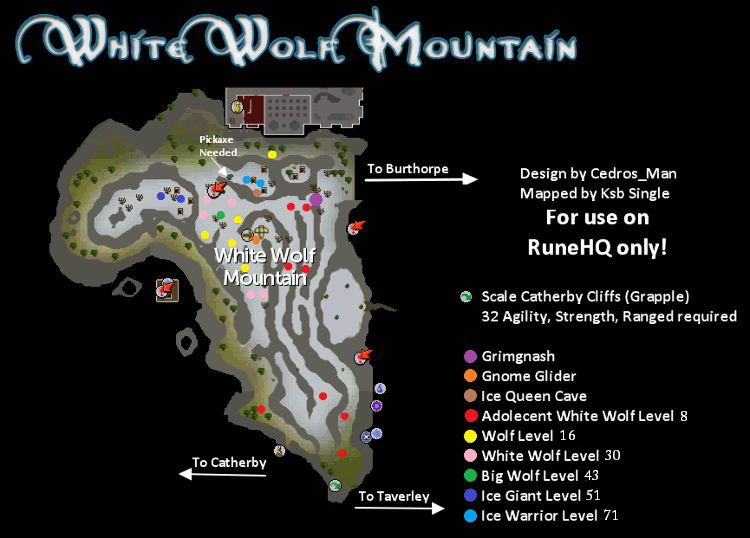 Instructions:
Monsters:
White Wolves - Level 8, 16, and 30
Big Wolf - Level 43
Ice Warriors - Level 78
Ice Giants - Level 74
Ice Spiders - Level 60
Travel:
There are a few ways to get from one side to the other. From Taverley start at the north side of the bank. From Catherby start just east of the fishing area. If you go East you should walk through some guards. Once you pass the guards, walk on the first path South until you end up in Taverley.

Players can also go to Port Sarim and charter a ship. The trip costs 1,000 coins.

Players who have completed the Fishing Contest Quest are able to use the cart station underneath the mountain that leads to Keldagrim and vice versa.
This Map was written by ksb single. Thanks to DRAVAN, IkemanTV, and Jarkur for corrections.
This Map was entered into the database on Sun, Mar 25, 2007, at 06:04:47 PM by sheep01, and it was last updated on Tue, Dec 01, 2015, at 09:32:09 PM by Jarkur.
If you see this guide on any other site, please report it to us so we can take legal action against anyone found stealing our content. This guide is copyrighted by RuneHQ, and its use on other sites is expressly forbidden. Do not ask if you can use our guides or images, the answer is and always will be NO!
Print this page with images - Back to Previous Page - Back to the Map Index Page - Back to Top