Directions:
North of Keldagrim Library
Nearest Bank:
This mining spot is also a reasonable distance from the Keldagrim bank (about a 10 - 15 second run), thus making it a desirable spot for higher levelled miners and more experienced questing players.
Nearest Landmark:
Map: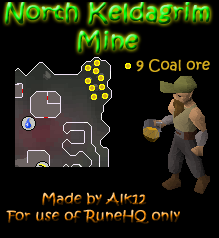 Instructions:
Ores:
10 Adamantite rocks
2 Runite rocks
8 Gold rocks
The mine is notable for its abundance of adamantite and gold rocks. It also has two of the relatively few runite rocks in RuneScape, both of which are closer to a bank than in any other mine.

To minimise the run energy drain, players may wear weight-reducing equipment, such as spotted or spottier cape, boots of lightness, penance gloves, agile top and legs. To maximise experience over time, players should consider wearing Varrock armour 3/4.
This Map was written by Alk12. Thanks to Watsermetjou for corrections.
This Map was entered into the database on Sat, May 20, 2006, at 10:32:10 AM by magicblade28, and it was last updated on Wed, Oct 21, 2015, at 01:18:56 AM by DRAVAN.
If you see this guide on any other site, please report it to us so we can take legal action against anyone found stealing our content. This guide is copyrighted by RuneHQ, and its use on other sites is expressly forbidden. Do not ask if you can use our guides or images, the answer is and always will be NO!
Print this page with images - Back to the Map Index Page - Back to Top