NOTE:
mIRC is NOT free! You can try it out for 30 days, after which point you be required to purchase a license for a one-time fee of $20.00. If you want to use a free IRC client, please try Trillian or IceChat.
------------------------------------------
I. For existing/advanced mIRC users:
Hostname: irc.runehq.com
Channel: #runehq
You can type /server -m irc.runehq.com -i YourNickname -j #runehq to connect to our IRC server in the same mIRC window. Replace "YourNickname" with a nickname of your choice.
If you are familiar with mIRC scripting, you can add the above command under the Alias or Remote tab. If you need help, please contact Tri_Killer2 with a
personal message
.
------------------------------------------
II. For new mIRC users:
Setting up mIRC to connect to RuneHQ's IRC server is as easy as taking candy from a baby! Just follow these steps:
1. Download mIRC by going to the following link:
http://www.mirc.com/get.html
2. Install mIRC.
3. When you open mIRC for the first time, you will be asked to register. You can choose to do so, or hit "Continue" to use the client for 30 days.
4. You will now see the "Before" screen. Fill out the fields so it looks like the "After" screen: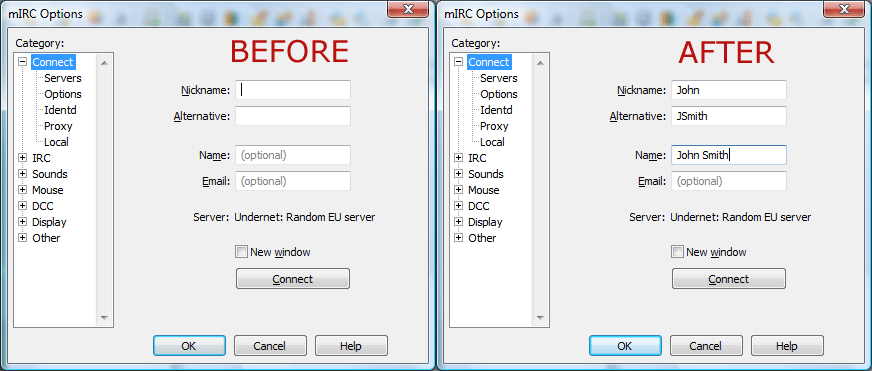 5. In the left-hand menu, click "Servers" as shown. You will now see the following screen: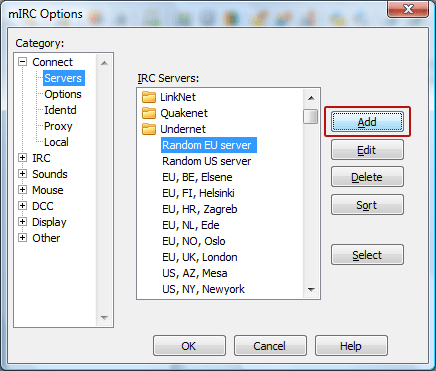 6. Click "Add" on the right as shown in the above picture. Then fill out the fields shown below and click "Add".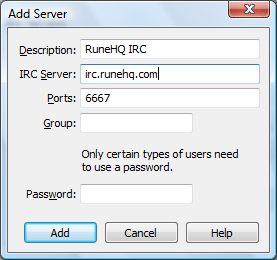 7. You should now see the following screen. Press "Select" to continue, then press "OK".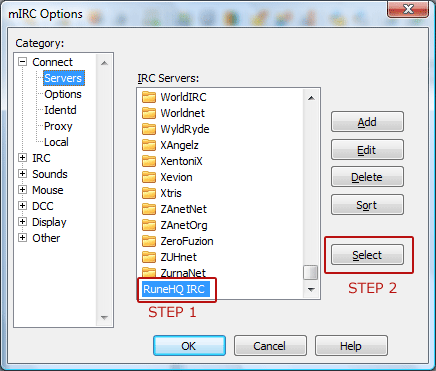 8. In the top menu, click on "Favorites", then click "Add to Favorites". Fill out the fields as shown below, then press "OK". Make sure the "Join on connect" option is checked!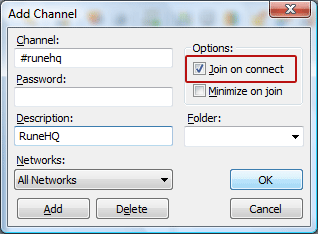 9. Now click on Favorites again, and go to "Organize Favorites". Uncheck the option "Pop up favorites on connect", then press "OK".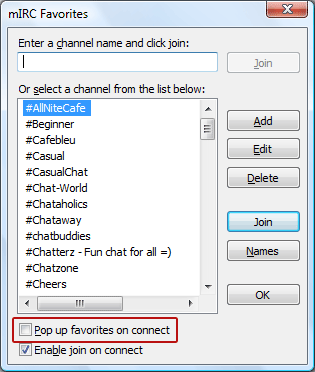 10. Now hit "Connect" on the top, and you should be logged on!