Contents:
- Ring of Charos and its Uses
- Ring of Charos (a)
- Uses for The Ring of Charos (a)


This ring is a reward from the quest "The Creature of Fenkenstrain", and It will allow you to enter the werewolf agility course, near Canifis.





On a side note, the '(a)' stands for 'Activated', because it contains a secret power. This power is unlocked by the Wise Old Man during the "The Garden of Tranquility" quest. He can be found in the first house north of the bank in Draynor Village. For more information on how to obtain this ring see "The Garden of Tranquility" quest guide. During the Garden of Tranquility quest you have to use this Ring of Charos (a) to persuade people to give you the rare seeds used to plant in the Queens garden.If you lose either of these Rings, you can get them back by pickpocketing Dr. Fenkenstrain again in Fenkenstrain's Castle. If you have completed the The Great Brain Robbery quest.

To get this ring you will need to do 2 quests:
The Ring of Charos (a) is a ring, that has the power to persuade people, to do what you want them to. But only the unexperienced people. This only applies to NPC's. The conversation will have a charm at the beginning of the sentence, showing whether an option by talking to an NPC is made by using the Ring of Charos (a)



Uses for The Ring of Charos (a):
Choosing a Cat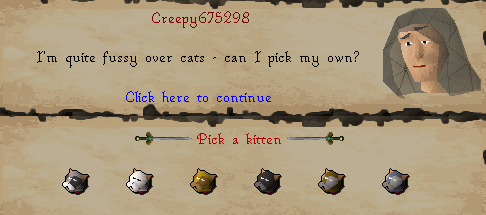 Foreman Charge Decrease
If you have under level 60 Smithing, to use the blast furnace, The foreman will usually charge you 2,500gp for 10 Minutes. Using the Ring of Charos (a), this will decrease the price to 1250gp for 10 Minutes.



Free Karamja Cruise
You can travel from and to Karamja for free. Yep, thats both ways, from Port Sarim, and from Ardougne.


Choosing a new name
After you have completed the Fremennik Trials, you can use the Ring of Charos (a) to change your Fremennik Name. You do not get to choose your Fremennik Name, He just gives you another random one.



Fly for Less
In Al-Kharid, if you do a lot of tasks for Ali morisane after completing The Feud Quest, he will decrease the magic carpet fee across the desert to 100gp, rather than 200gp. If wearing The Ring of Charos (a), the price will come down from 100gp, to 75gp.



A story about 50%
When you talk to 50% Luke on Braindeath isle, he tells you his story of how he became "50%". You may also sell Grey wolf fur, to the fur trader in Varrock, for 150gp, instead of 120gp, per wolf Fur.





And don't forget the normal bear fur, He will give you 20gp each, instead of 12gp each.



Kathy Corkat
In the quest "Swan Song", if you have it on in the beginning, you don't have to pay 50 gp to get to the island and start the quest



Buying a cheaper Musical instrument
In the Desert, you can Pay 50gp for a 'Snake Charm', instrument, in Pollnivneach.
A free ride to a swamp
By Mort'ton, there is a boatman, costing 10gp, to take you to the middle of Mort Myre Swamp, Ring of Charos (a), lets you use it for free.



Gold ore storer
Near the Between a Rock Quest, there is a dwarf who will take some of your gold to the bank, but keep some as payment. The Ring of Charos (a) lowers the price. When you have a whole inventory, he should take about 5 gold ores without the ring, or 3 gold ores, with the ring, as payment.



The un-worthy, worthy offering
When talking to the 'Fossegrimen', You have to offer a shark to get an enchanted Lyre, You can give her a raw bass with The Ring of Charos (a), she will think it's a small shark!

Note: This does not work with any other fish, Other than Bass for the Ring of Charos (a), Without the Ring of Charos (a), The Fossegrimen will accept a Shark, Sea turtle or manta ray.)



This Special Report was written by Creepy675298. Thanks to Fireball0236 , The axelman, andro_girl, Rvd_Man_Rule, Chaosblade77, Oblivion590 , alent , Nuke-Marine , runeplayinmom , Aakanaar, Lord576, arranf, Shinraz, TheFrugle, Realruth, and BobbehMan for corrections.
This Special Report was entered into the database on Sun, Jan 29, 2006, at 01:28:01 PM by samwilliamh, and it was last updated on Tue, Dec 23, 2014, at 12:36:29 AM by Javezz.
If you see this guide on any other site, please report it to us so we can take legal action against anyone found stealing our content. This guide is copyrighted by RuneHQ, and its use on other sites is expressly forbidden. Do not ask if you can use our guides or images, the answer is and always will be NO!
Print this page with images - Back to Previous Page - Back to the Index Page - Back to Top