Table of Contents:
Introduction
Requirements
Outfit and Inventory
Getting there
Strategy
Death
Loot
Do you think you and your friends have what it takes to kill the second strongest monster in Runescape after the Nex">? Would you fancy some of the best shields in game? Do you want to know what it feels like to kill a level 785 monster?
Finished Summer's End.
Decent armor.
A team of 5 people minimum, but the more people the easier it will be!
A high Prayer level (level 70+ recommended)
Good food (Sharks or better) and some Prayer restore potions.
Stat boosting potions are recommended.
Melee'ers
The Corporeal beast (often referred to simply as "Corp") has a very high chance to hit, so your armor should focus on offensive abilities, rather than defensive.
As it is weak to stab attacks, Whips and godswords are not recommended here.
Here is a comprehensive list of alternative equipment:
Important: Thereís a VERY high chance to die, so only take stuff youíre willing to lose!
Void can improve the damage done, but itís hard to replace.
The Vesta's and Statius' weapons are very effective as well, but they only last for one hour of combat. Keep this in mind if you are bringing one.
The Corporeal beast will devour your familiars, so if you bring one, there is a good chance you will lose it. If you go in a large group however, it may be beneficial to take a healing familiar (like the Unicorn stallion), and a few extra pouches as it will happen less then in a small group.
Rangers
Again, your main point of interest in armor is offensive bonuses.


Below, you will find some alternatives:
You can bring the same food and teleport as the melee setup, just make sure to bring a Range potion instead of a Super attack and strength potions!
The easiest and fastest way to get there is by using a Games necklace to teleport directly to the lair.
Inside, just turn East and go through the first passage. Keep going East to the second passage and wait there for your team to regroup, as thatís where the Beast lives!
Thereís a map in the next section of this guide to clarify things.
When your team has regrouped, you should start gathering enough courage to enter, because the Corporeal beast wonít go down without a fight!
Luring and Fighting
To make the fight a little easier, someone should rush in the cave, make sure the Beast attacks him/her, and run out again and hide a little south-west or north-west. This will make the Corp follow him right next to the passage, and he will keep focused on the lurer, so the other team members can enter without even putting protection prayers on. Just follow the red line out of the cave, shown on the map below.
While luring, be ready to heal and use the Protect from Magic prayer. He can and will hit up to 500!


When the Corp is stuck next to the passage, the team members except the lurer should pot up and enter. Spread out around him and wait for the lurer to enter the cave.
Make sure you put on Protect from Magic prayer before the lurer is in the cave! The Corp can hit well over 500 with his magic attacks, and even though the prayers do not work 100%, they reduce the effect a little.
Attack the Corporeal beast, using prayers (like Piety) and potions to boost your damage.
Meleeíers can use the Darklight spec to lower its Attack, Strength and Defence by 5%.
Rangers should use the Ruby bolts (e), as their spec will hit 1000. Normally, they hit 1/5th of the opponentís HP which would make them hit 4000, but this has been nerfed by Jagex due to being overpowered.
Using Statius's warhammer, a Bone dagger (p++) or Darklight for speccing, you can lower it's Defence greatly!
Fighting next to the entrance gives the advantage you can hop out of the cave when the Beast hits you hard, so you can heal up and re-enter the battle.
You can use Vengeance or Vengeance Other to help you during the battle, but there will have to be someone willing to sacrifice some inventory spots.
The Corp can also lower your Magic, Summoning and Prayer levels, so keep an eye on those if you're using them!
Magic is not recommended to fight him for the above reason, and because it's too inaccurate.
The Dark Energy Core
When you take off about 4009 Life Points off the Beast, he will summon a Dark energy core. This little guy will hop around and damage you to heal its master.
When he lands on a spot next to a player, he will attack you. You can partly avoid him by running away from him which will confuse him for a while, leaving him standing there. However, this does not take long!


When he arrives, a ranger should switch to Emerald bolts (e) and hit him with the spec once, then stand next to it. He will still damage you from time, but the poison effect from the bolts make it a lot slower.
If you kill it, the Corp will summon another one soon after, so itís best to deal with it this way. He can hit rapid 250s, so deal with it fast.
The Dwarf Cannon
The Corporeal beast is one of the few boss monsters who doesn't destroy cannons, so it may be beneficial to take one with you. It will take care of the Core when it comes out, and hit the Beast itself too occasionally. Its attack speed is reduced though.
If you decide to bring a cannon, be aware that if you die with it still in your inventory, you might keep other items on death then before!
Also, don't forget cannon balls!
The Corporeal Beast's Attacks
The Corporeal beast has a few different attacks, but none are as devastating as the magic attacks. Thatís why you have to use the Protect from Magic prayer.
His first attack is a spell that will hit you, then it will splash on the ground and damage everyone around you as well! Itís important to spread out a bit so the spell will hit less people.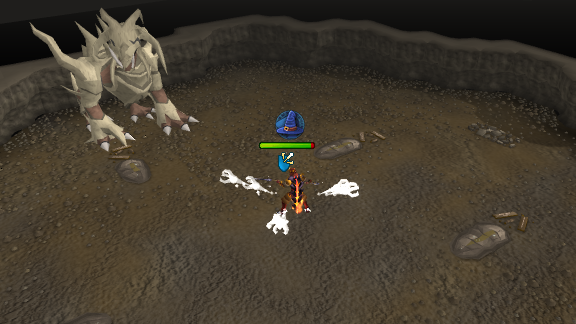 His second attack is also a spell, but a single one that will hit only 1 person. He can hit about 500 with this spell, so keep your health over 600-700 Life points!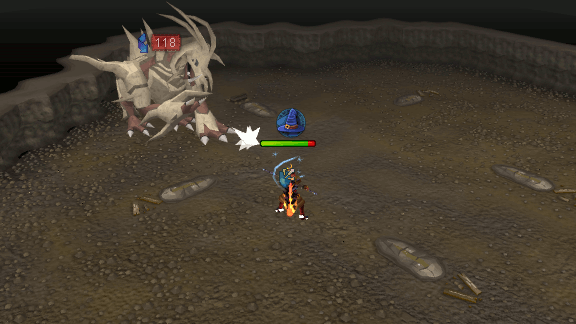 His melee attack is weaker then his magic attacks, so it shouldnít be your biggest problem.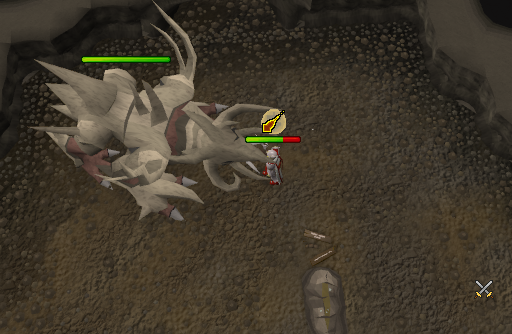 Finally, he can damage you when you run under him!
He will not try to run over you, but if you run underneath him you will get trampled and hit hard.


As this is the highest level monster in RuneScape, and definitely one of the hardest to kill, death is more then likely.
If you die while youíre inside the room, you will NOT get a grave! There is only a few ways how to get your items back.
Set your respawn at Soul Wars. Use a games necklace to teleport to Clan Wars and start running to the cave. If you act fast enough, you will be able to get your items, or some of them back.

Note: Note: You need to complete Nomad's Requiem quest in order to set your respawn at Soul Wars. If you haven't done it yet, Seers' Village is your next best option (this requires the King's Ransom quest)..
Make sure you only take items youíre willing to lose, in addition to your 3 items kept on death. You can use the Protect Item prayer to keep 1 extra item though.
If the Corp fires a spell at you right when you leave the cave, you will still get hit! If you die because of that hit however, you will get a grave and you can get your items back.
And if you're a good runner, you can get your items back as they will stay on the floor for 2 minutes.
Beware of the Beast though, as it's very likely it will still be alive!
That looks like a lot of trouble, but youíre not doing this for a Dragon med helmet or a Dragon chainbody.
The Corporeal Beast drops special sigils, that can be attached to a Blessed spirit shield. These sigils enhance the abilities of the Spirit shield, making it some of the best shields in game.
You need 85 Prayer to bless a Spirit shield by using Holy elixir, and you need 90 Prayer and 85 Smithing to attach a sigil to a Blessed spirit shield.
Shields
Image
Effect
Sigil
Requirements to wield
Arcane spirit shield
Gives in addition to the normal Blessed spirit shield stats a Magic offense bonus of +20, making it the best offhand armor for mages.
Arcane sigil
75 Defence
70 Prayer
65 Magic
Spectral spirit shield
With its +30 Magic defence, this shield gives some of the best defense against spells for offhand armor.
Spectral sigil
Elysian spirit shield
This shield has a 70% chance of blocking and completely ignoring 25% of the damage dealt to you!
Unlike other shields and defence bonuses, who give a higher chance avoiding getting hit, this shield reduces damage done.
E.g. If a person would hit a 240 on you, this shield has 70% chance of reducing the hit to an 180.
Elysian sigil
75 Defence
75 Prayer
Divine spirit shield
Much like the Elysian spirit shield, this shield ignores part of the damage done by 30%. However, this will reduce the damage every time,
but half of the ignored damage is removed from your Prayer instead.
E.g. If a person would hit a 240 on you, the shield will block 80 damage so you only get hit a 160, and 4 Prayer points get removed.
Divine sigil
Good luck!
This Special Report was written by Ludo. Thanks to Egekalaycan, Hilwin1, JoeC, Salvette, Lordcorbenik, Fatsoman999, and Seinami for corrections.
This Special Report was entered into the database on Thu, Nov 26, 2009, at 12:00:00 AM by Egekalaycan, and it was last updated on Mon, Jun 04, 2012, at 08:12:50 PM by Javezz.
If you see this guide on any other site, please report it to us so we can take legal action against anyone found stealing our content. This guide is copyrighted by RuneHQ, and its use on other sites is expressly forbidden. Do not ask if you can use our guides or images, the answer is and always will be NO!
Print this page with images - Back to Previous Page - Back to the Index Page - Back to Top