Table of Contents:
To start training the skill of Bankstanding, you must find a bank that is available for your level to be bankstood at (See the list below). Deposit boxes and certain banks cannot be used to train this skill. Head over to that bank and start standing at the bank booth or staring at one of the bankers. You will receive a fixed amount of experience per minute of successfully standing at a bank.

There are a number of things you can do to improve your chance of successfully bankstanding for a minute. Idling in a clan chat and/or friend chat will increase your chances by a significant percentage. Other ways are performing emotes and wearing crazy outfits. Disrupting the above actions mentioned will result in a experience penalty.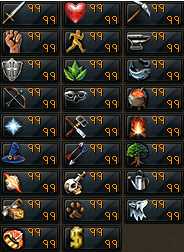 As the skill-name says, training the skill takes place at banks. As you level the skill more banks will become available to you. Only the banks below can be used to train the skill. Standing near deposit boxes or other banks will not result in an experience gain.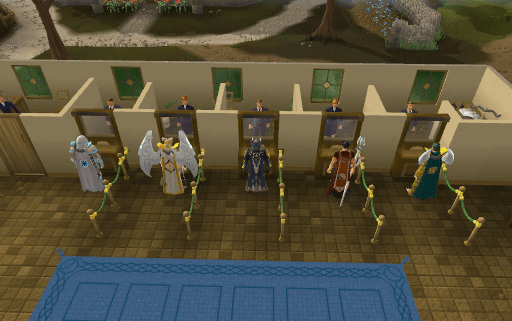 Bank
Location
Level
Required
XP/Min
Members
Only
Lumbridge
Top floor of the Lumbridge Castle
1
100
No
Varrock
East and West of the square
5
250
No
Falador
East and West of the square
10
500
No
Taverly
Southwest corner of the city
20
750
No
Burthorpe
Near the lodestone
30
1000
No
Al Kharid
West of the palace
40
2500
No
Draynor Village
Southeast of the market
50
5000
No
Edgeville
Center of the city
70
7500
No
Grand Exchange
West of the palace
90
10000
No
While you level the skill you will unlock a number of new banks. The location of these new banks are currently unknown. Among the other rewards are clothes and items that will allow you to bank a number of items before they need to be recharged. It is rumored that at level 95 you will unlock a spell that will auto-bank every item in your inventory during a certain timespan.
Once you have achieved level 99, you may visit Floral Pois, Master of Bankstanding, in the basement of Varrock's Western bank. She will sell you a Bankstanding cape for 99k Coins.





APRIL FOOLS!!! We hope you all got at least a chuckle from this, we sure did!
This Skill Guide was written by RuneHQ Staff.
This Skill Guide was entered into the database on Wed, Mar 13, 2013, at 02:00:44 AM by Alfawarlord, and it was last updated on Wed, Apr 03, 2013, at 06:17:58 PM by Alfawarlord.
If you see this guide on any other site, please report it to us so we can take legal action against anyone found stealing our content. This guide is copyrighted by RuneHQ, and its use on other sites is expressly forbidden. Do not ask if you can use our guides or images, the answer is and always will be NO!
Print this page with images - Back to the Skill Guide Index Page - Back to Top