Skill Levels Required:
Quests Required:
None.
Items Needed:
None.
Directions:
Persons:
Monsters:
Respawns:
Quests Available in the Guild:
None.
Guild Map: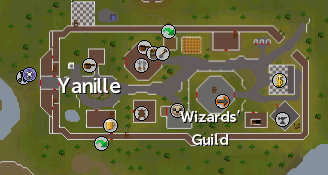 Tour:
Entrance:
The Wizard's Guild can be accessed through these large wooden doors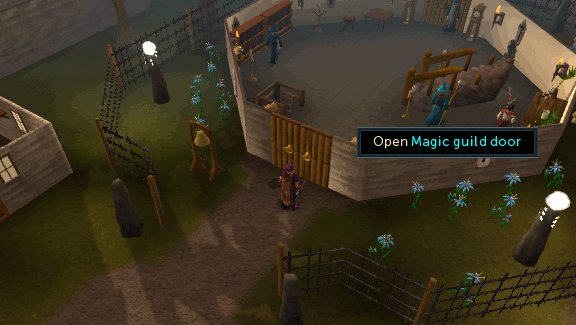 Basement:
Let us begin our tour of the guild at the lower floor, the basement. Take the ladder in the southeastern corner of the first floor to access it. Here,
Wizard Frumscone
has some
Zombies
(level 24) specifically designed for you to mage. There is a gate that leads to the zombies but it cannot be opened. Hence, if you are training here, it is recommended that you bring runes to cast telekinetic grab, so that you can pick up your drops from the other side.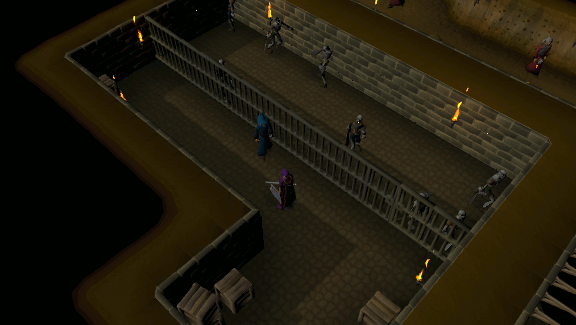 First Floor:
Moving up to the ground level we find 2
Wizards (level 9)
, which you may attack. Person found on this floor are
Wizard Distentor
, who will teleport you to the Rune Essence Mine,
Zavistic Rarve
, the Grand Secretary of the Wizards' Guild,
Professor Imblewyn
, a possible customer in the
Gnome Restaurant
mini-game. Zavistic Rarve can also be found outside of the guild if you ring the bell by the entrance.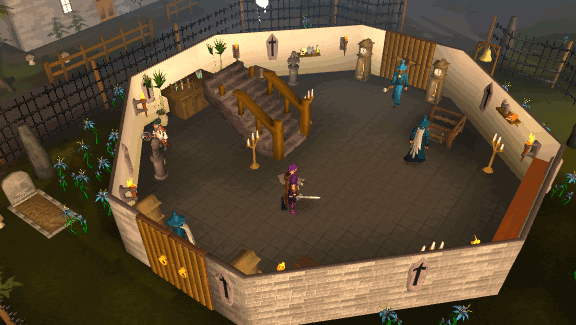 Second Floor:
Take the stairs on the north side of the first floor to get to the second floor. There are 3 more
Wizards (level 9)
. Here, you also will find the
Magic Store Owner
, who sells runes and staffs, and the
Mystic Robe Store Owner
, who sells the blue/white mystic robes and Magic skillcape.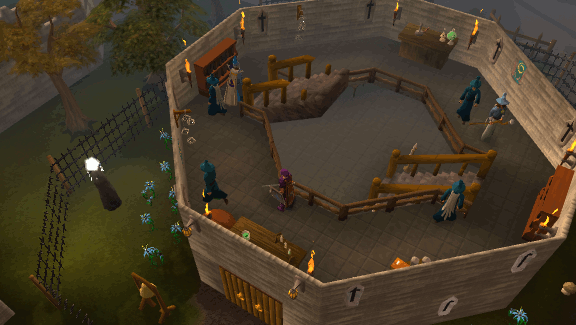 Magic Store:
This store sells a variety of runes and staffs.
Mystic Robe Store:
This store sells blue mystic robe parts.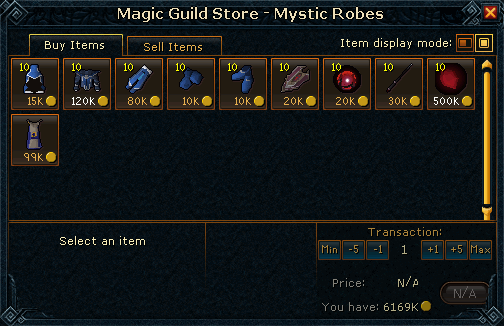 Third Floor:
At the top floor, you will find 3
Wizards (level 9)
and 3 magical portals, as well as 2
Vial
spawns.
Portals:
East: Wizards' Tower, south of Draynor Village.
South: Dark Wizards' tower, north of the Crafting Guild.
West: Thormac's tower, west of Catherby. Thormac will turn Battlestaves into Mystic staffs for 40K gp.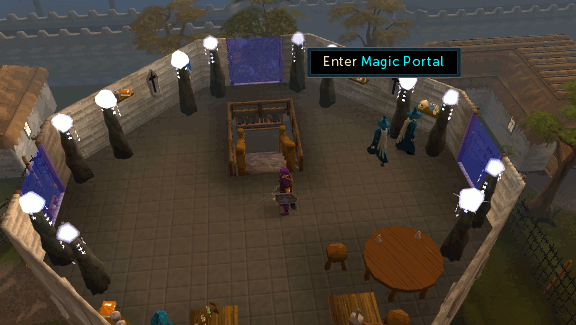 This Guild Guide was written by Chopsteeq. Thanks to DRAVAN, Imperial G96, cadetmonkey, rubber boy44, Maonzhi, Bammoxx, and Alfawarlord for corrections.
This Guild Guide was entered into the database on Mon, May 23, 2005, at 08:17:38 PM by dravan, and it was last updated on Mon, May 14, 2012, at 11:53:47 PM by Javezz.
If you see this guide on any other site, please report it to us so we can take legal action against anyone found stealing our content. This guide is copyrighted by RuneHQ, and its use on other sites is expressly forbidden. Do not ask if you can use our guides or images, the answer is and always will be NO!
Print this page with images - Back to Previous Page - Back to the Guild Guide Index Page - Back to Top