Skill Levels Required:
Quests Required:
None.
Items Needed:
None.
Directions:
West of
Edgeville
, east of the Ice Mountain, and north of the Body altar.
Persons:
Monsters:
Respawns:
Quests Available in the Guild:
None.
Guild Map: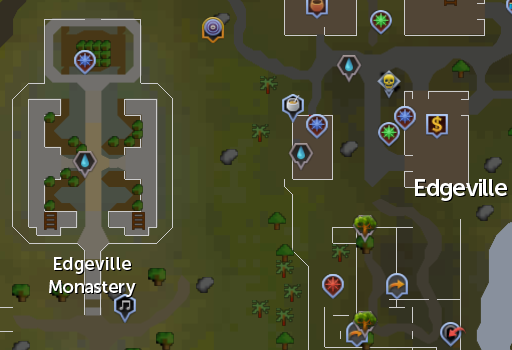 Tour:
First Floor:
Entrance:


If you do not have 31 Prayer, then Abbot Langley will not let you go up the nearby ladder. If you can then he will ask you to join the monastery and you can accept his offer. On your first visit he will heal you, but you may talk to him afterwards to heal you up to 11 Hitpoints. The Monks outside can heal up to 15 Hitpoints.





Garden:


The cabbage spots and rose area is located in the most northern part of the monastery. These Cabbages are also used for the Black Knight's Fortress quest. The roses are used in Garden of Tranquillity quest. Be warned, if you continue north you will head into the wilderness.





Ladder:


If you have 31 Prayer, then Abbot Langley will allow you to go up the ladder and access the second floor of the guild.




Second Floor:
This Guild Guide was written by Jakesterwars. Thanks to Fireball0236, gondomwinges, ZakAdder, Drayhok, hammer701, Terr002, Lordofchao50, DownStrike, Alfawarlord, Mecharlie2, Boy 1331, and DarkBlitz for corrections.
This Guild Guide was entered into the database on Tue, Mar 16, 2004, at 02:05:43 PM by DRAVAN, and it was last updated on Fri, Apr 03, 2009, at 05:20:12 PM by Alfawarlord.
If you see this guide on any other site, please report it to us so we can take legal action against anyone found stealing our content. This guide is copyrighted by RuneHQ, and its use on other sites is expressly forbidden. Do not ask if you can use our guides or images, the answer is and always will be NO!
Print this page with images - Back to Previous Page - Back to the Guild Guide Index Page - Back to Top